With my work as a social media manager and a blogger who maintains my own social media accounts, my mobile phone is one of the things I always bring with me whenever I go out, most especially when I travel. It's been a struggle for me in the past few months because my Samsung Galaxy SIII's battery just won't keep up with my online activities, so I was in the market for my own power bank. I initially wanted something with a capacity of over 10,000 mAh, but thankfully, I found something that was just right. I now have a new constant companion – my Ye!! Energy Xtreme Power Bank.
Built For The Outdoors
At first glance, I was impressed by how rugged or durable this power bank looks like. Upon reading the features, I found out its rubberized exterior is impact, splash and dust resistant. How cool is that?! It's built for those who love the outdoors, that's why. 🙂
There's even a built-in carabineer loop so you can attach this to your backpack, bag or belt for easier access. I have not yet tested how it can endure hanging outside my backpack while I travel, but it looks like it can handle the stress. 🙂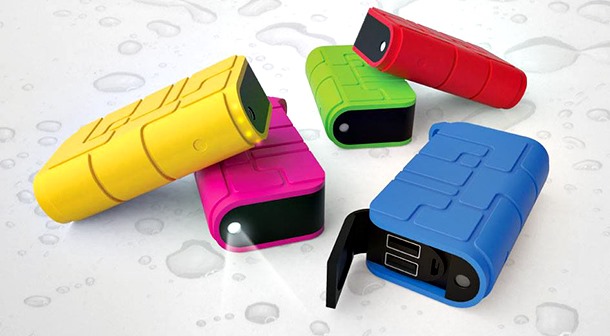 Though it has this rugged exterior, the power bank itself is not that heavy and it fits my hand well so I can hold it with no problems. Check out the Instagram video below. You might want to turn down the volume though. 😀
Silicone Socket Lid
I was a little confused initially as to where I can find the USB sockets. When I finally found them, I had a hard time prying open the cover or lid that seals the sockets. I maintain short nails, so I had to use a pen to open it. 😀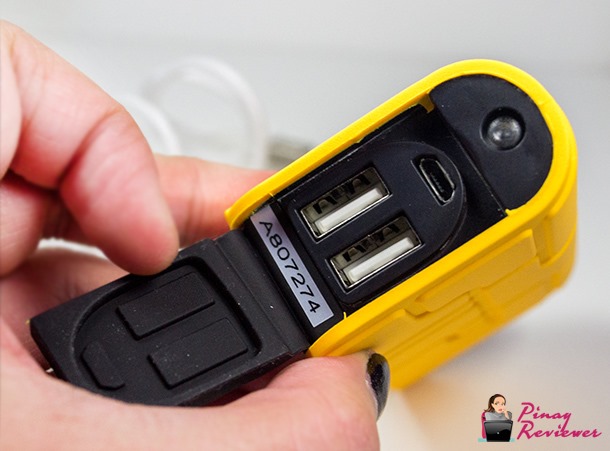 This might be an issue, you'd think, but since this Ye!! Energy Xtreme Power Bank is water and dust resistant, they had to make sure the silicone socket lid is securely protecting the USB ports inside.
Energy Capacity, Charge and Recharging Time
The total capacity of this power bank is 5,600 mAh. Since my S3 phone needs around 2,200 mAh to be fully charged, I am pretty satisfied with the Ye!! Energy Xtreme Power Bank.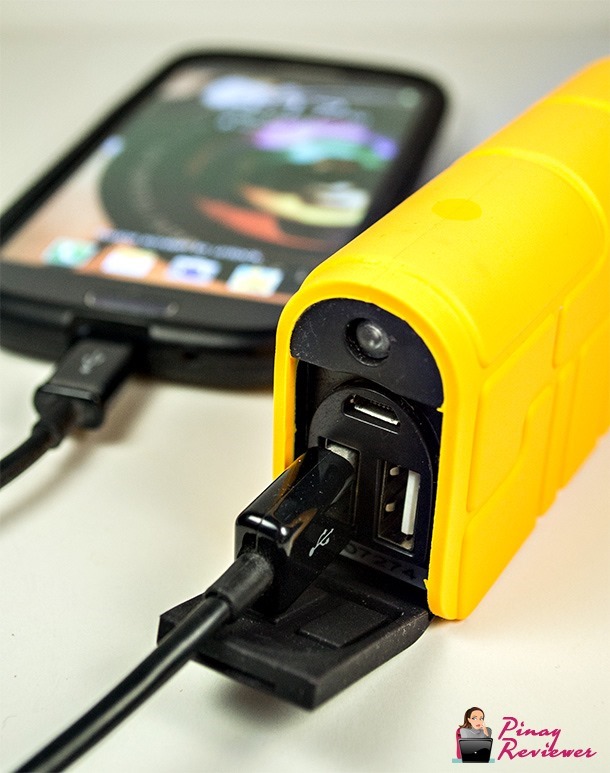 The package says 7-8 hours, but I've noticed I was able to fully recharge the power bank for a few hours. I guess it's because I'm using a USB wall travel charger adapter. It'll surely take longer if you recharge this using a USB connection to your laptop or computer. I say invest in a USB wall charger. 🙂
Recharging time for my smartphone has been pretty fast for me. It can fully recharge my Samsung Galaxy SIII in over an hour or so even while I'm using it. I'm sure it can recharge faster if I turned off WiFi and don't use my phone at all. 😀
There are also 2 USB sockets that you can use so you can charge 2 devices simultaneously. The other micro-USB port is the one you use to recharge the power bank itself.
If you want to check how much more juice the power bank has left, you simply have to press a button on its rounded side. It'll be tricky to find it at first, but it's on the side closest to the USB sockets.
Safety Features
One of the most important features you should look for when buying a power bank is how safely you can charge with it. Many of us leave our devices recharging overnight, and this can be problematic if you use a cheap power bank. That is why you should really invest on a high quality power bank that comes with a high-end Lithium-ion Battery since your mobile devices will depend on it.
Thankfully, Ye!! Energy Xtreme comes with over-discharging, over charging, over-current and short-circuit protection so you can sleep soundly as it recharges your device.
Other Features
The Ye!! Energy Xtreme power bank also comes with a built-in LED flashlight that you can use in the dark or at night time. You just have to press the same button for checking the power left TWICE to turn the flashlight on or off.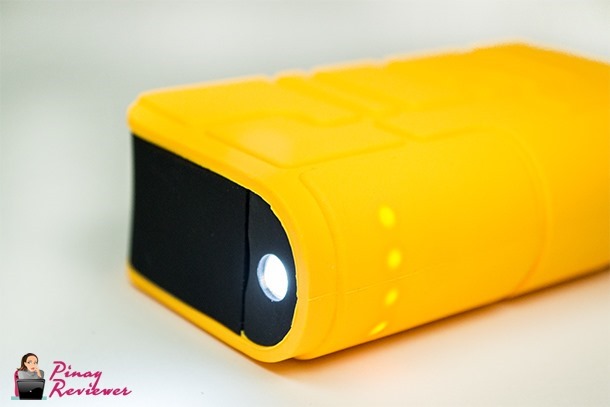 Conclusion
I can't nitpick this Ye!! Energy Xtreme power bank because it's exactly what I need. It's definitely a very good buy at Php 1,950. It's now a permanent item in my bag. 😉
Check out the features of this Ye!! Energy Xtreme Rugged External Power Bank below.
Summary of Features
IP65 certified – Impact, Splash and Dust Resistant
Comprehensive protection in extreme environment
Shocks and bumps absorbing rubberized surface
Built-in LED flashlight for camping or other outdoors-at-night activities
Dual outputs for charging two devices simultaneously
Over-discharging, over charging, over-current and short-circuit protection
Available in 5 vibrant colors: Red, Green, Yellow (featured), Pink, Blue
Specifications
Model Number: BPR56
Power Capacity: 5,600mAh
Compatibility: iPad / Tablets, Android / Windows Phone, iPhone, iPod touch / Music Device, Game Console
Battery Cell: Lithium-ion Battery
Input: 5V – 1A (Micro USB)
Output: Single: 5V – 2.1A ; Dual: 5V – 1A + 1A
Charge Time: 7 – 8 hours
Standby Time: Up to 6 months
Talk Time: Up to 10 hours on 4G ; up to 15 hours on 3G
Dimensions: 100.5 x 52 x 28 mm
Net Weight: 197 grams
Package Content: Energy Xtreme BPR56, Micro USB Cable, User Manual

Price: Php 1,950
Ye!! Energy Xtreme Rugged External Power Bank is available in  all Digital Walker, Digital Hub and Beyond The Box branches through Digits Trading.