Unfortunately, Winila City has closed and so I'll soon take down this post. My apologies to those who might have been misled by this post. You're not alone. We were led to believe that the company was still in tip-top shape. *sigh*

Anyway, to the winner, sorry for the delay. I already have the prize at-hand and I'll send it to you as soon as possible!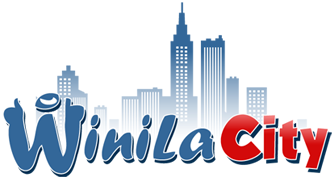 From the people behind Winila, a very popular online shopping site where you can win auctions and purchase items at as much as 95% discount, comes a new group-buying site – Winila City!
Winila City was just launched last month and was conceptualized after the success of auctions on gift certificates for local retailers on Winila.com.
How Does It Work?
It's pretty easy to join Winila City. You can fill up the registration form OR link your Facebook account.
Check the latest deals on Winila City. Also, make sure you're receiving their newsletter to make sure you get updated on new deals. 
Once you see a deal you like on their website, click on the BUY NOW button.
Winila City offers the following payment methods:

They accept Visa, Mastercard, American Express, Discover, and Diner's Club through Paypal Express Checkout.
Pay at their office. Visit them to pay and pick-up the voucher/s. Make sure you settle the payment within 24 hours.
Bank Transfer: Banco de Oro Bank. The deposit for over-the-counter (OTC) payments should be made 24 hours after purchase.

When the deal requirement is not met, your order will be cancelled. If you already paid, they'll transfer it back to your account as credits that you can use for next time.
When the deal goes through and your payment has been processed, you can simply print out your coupon/voucher and present it to the merchant.
Pretty convenient, right? So, make sure you sign up to Winila City and invite your friends to earn Php 200 per referral. PLUS, you also get a chance to win a MacBook by signing up now!
!! GIVEAWAY ALERT !!
In line with the launch of Winila City, I am hosting a giveaway where you can win Php 1,000 worth of Pancake House gift certificates.
MECHANICS:
1. Sign up to Winila City.
2. "Like" Winila City Philippines on Facebook.
3. "Like" Pinay Reviewer on Facebook.
4. On YOUR Facebook wall / profile page, publish a new status message with this format:
I'd love to win Php 1,000 worth of Pancake House gift certificates from <TAG @Pinay Reviewer – Product Reviews and Giveaway Alerts> and <TAG @WinilaCity Philippines>. Join www.winilacity.com for great deals and a chance to win a MacBook! http://bit.ly/dLnEqc
(I disabled highlighting of text on this blog so just copy the text from below)

Your entry should look like this (the featured deal might be different when you post it):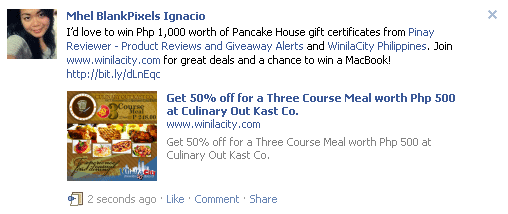 5. Post a comment on THIS POST with the following information:
The email address you used to sign up to Winila City.
ANY of the following:

Your name on Facebook
The link to your entry for this giveaway
6. Important:
Make sure you TAG Winila City Philippines and Pinay Reviewer's Facebook page.
Your post's privacy setting must be set to EVERYONE for it to be valid.
Check both Facebook pages to verify that your entry was posted.
Only one (1) entry per person.
7. This giveaway will end on April 24th, Sunday. I will pick a winner through Random.org OR manual drawing (will be recorded on video… just for fun :D) and will announce here and on the FB page on April 25th.
8. Open to Philippine residents only. Prize will be shipped / mailed to you OR we can arrange for a meet-up (at an event or something). 🙂
UPDATE: I may throw in a couple more prizes for the winner. Will decide on that once I've made the announcement.
What are you waiting for?! Join now and invite your friends to join Winila City and this giveaway, too! 🙂