If there's one thing I love doing, it's planning parties, get-togethers or events in general. I love being in control of the guest list, food and drinks, and the programme too. 😀 You can ask any of my long-time friends – they can attest to how I enjoy organizing any social gathering. This is also why my bro and I decided to start The Burp Society to plan meet-ups with fellow Certified Foodies. 😉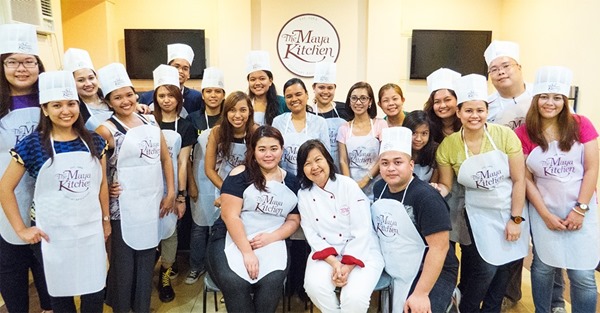 Aside from social gatherings, I also find it fun to plan our trips. In 2012, we went to Bohol and I arranged the whole thing for 14+ people. Last year, in Palawan, I organized our vacation too. Thankfully, there are tools you can use now such as social media networks, email and chat apps like WeChat so you can communicate efficiently and effectively with everyone involved.
Check out below how WeChat can help you plan a party or get-together in a short amount of time. 🙂
Challenge Accepted: Party-Planning in 5 Days

We all know the hassle that comes with organizing parties, not to mention rushed ones—making back and forth phone calls, sending out updates, and bringing people together. But did you know that what once took weeks or months to plan can now be cut down to a few days? Thanks to technological advancements like WeChat, it's easy to go back to the party-organizing scene minus the stress by simply using the social mobile app's Group Messaging and Moments features. Read along as we reveal how WeChat can be your planning buddy as it helps you breeze through the nitty-gritty of get-togethers in as little as 5 days. And yes, that means extra time for you to find the right outfit for the big night!
Day 1: Assemble the team

Every bash needs a core group of planners. For this, you can count on WeChat's Friend Radar feature which automatically scans other users within the vicinity and gives you the option to add them to your contact list with one tap of their images. This crosses out the fuss of having to exchange little details and gives you liberty to carry on chatting with them. Then, you can use Group Messaging to gather the gang simply by opening "Chats", tapping the wand button, and selecting the contacts who you want to add in the group. Riding on the rush, you can immediately decide on a theme, location, and date for your party through text and voice messaging, and photo, audio, and video-sharing. Also, you can begin delegating assignments—one for securing the place, one for compiling playlists, a couple for crafting decors, and more for whipping up spreads and drinks for the night's booze cruise.

Day 2: Cross your checklists

Once the tasks are set, the team can now maximize Day 2 by breaking up to complete the party to-dos. All members can easily update one another through Group Messaging, and even add suppliers to the chat as the process goes along. What's more, rallying everyone for emergency meet-ups is made trouble free by WeChat's location-sharing feature. Do the décor-makers need a hand with transporting supplies from Dapitan Market to Makati? No problem. WeChat will identify their real-time location and generate a map which they can post in the group chat for the team's reference.

Day 3: Spread the word

After making things happen during Day 2, this time should be allotted for letting people know about the gathering. The planning team can post photo or video invites via Moments, and even generate maps for the convenience of the guests. Monitoring head count also becomes easier as people can confirm their attendance as soon as they receive their invites.

Day 4: Tidy up the edges

By this time, the planning stage should be 75% done. With the set-up, supplies, and guests in place, the core group can now proceed with last-minute touch-ups before the actual celebration. This includes going over and finalizing the checklist, which the team can do via group chat.

Day 5: Begin the party pre-game

A party that's 99% done shouldn't leave the planners just waiting for the big night to come. Get guests excited by blasting teasers about the celebration—whether through photo mood boards that remind them what to wear or through music videos that make them get into the theme of the bash.

About WeChat

WeChat envisions and innovates new ways for people to connect, communicate and share. A mobile social communication app designed for smartphone users, WeChat is the world's fastest growing social app with over 100 million registered accounts internationally.

WeChat empowers users in fun and dynamic ways by bringing together messaging, social communication and gaming in one seamless, interactive experience, with comprehensive privacy and security settings that can be tailored as needed.

WeChat is an all-in-one app that enables users to add friends with several innovative features. These include highly convenient and reliable QR code scanning, phonebook and location-based connection services such as "Hold Together", "People Nearby" and "Shake." The platform facilitates social interaction with real-time "Walkie Talkie," "Voice Call," and "Video Call." Supported on data networks and Wi-Fi, WeChat makes it easy to stay connected with friends anywhere, anytime. Users can choose to communicate and share photos one-on-one, or within their closed social network through "Moments". The popular WeChat Sticker Shop has a variety of fun animated emoticons to express any emotion. Also, with a host of addictive WeChat Games, users can play and challenge their friends on the move, share scores and even find competitors nearby.

WeChat is available free for download on Android, BlackBerry, iOS, Symbian and Windows operating systems.

Learn more about WeChat and download the app at www.wechat.com

WeChat Philippines Facebook page: http://www.facebook.com/WeChatPH

Twitter: @WeChatPH

####