Okay, it's been a while since I last hosted a giveaway. This time, up for grabs is this Urbanears Kransen earphones in Coral. Thanks to Digits Trading for sponsoring this giveaway! 🙂
To be honest, when I was checking out the box of these earphones, I thought it was just like other earphones. As soon as I opened the box and saw the ear buds, I got curious.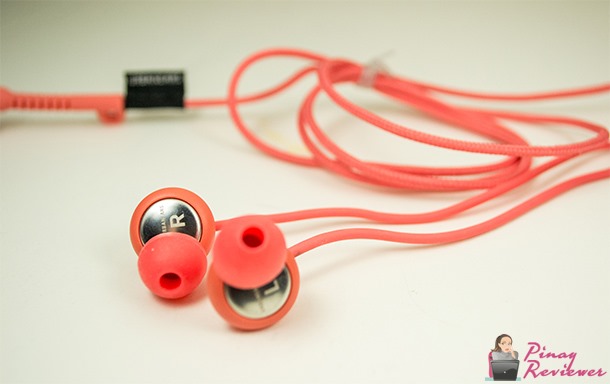 At first, I was weirded out by the angled ear buds. I made sure to use the correct one for the right ear 'cause I'm particularly sensitive when it comes to using in-ear earphones like this. I wasn't sure how they'll fit me, but I was surprised that they were comfortable. In fact, I had it on for more than 30 minutes, and my ears didn't hurt at all. Usually, I can only go for 15 minutes or so before I feel soreness or pain in my ears, but this time, I didn't feel anything but comfort. 🙂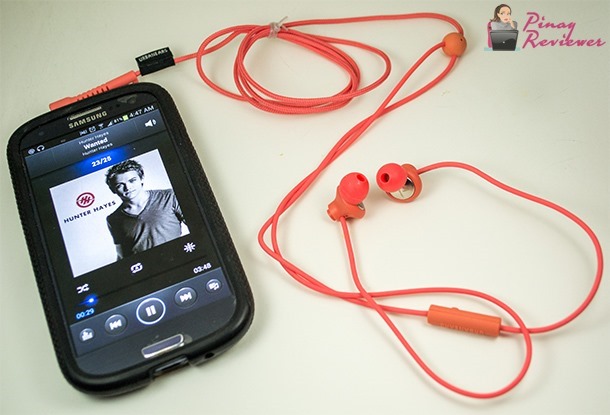 Another good thing about the angled, ergonomic ear buds is they don't easily fall off your ear. Don't get me wrong, you can remove them smoothly, but the shape helps keep them anchored in your ear.
Sound Quality
The bass isn't as crisp as I wanted. But Kransen makes up for this with clear sound, and no distortion even at the maximum volume. I enjoyed listening at full volume and it didn't mess up the sound and clarity of the songs on my playlist (Beyonce, Katy Perry, Jason Derulo, Ellie Goulding, etc) even for a bit. Cool for a set of earphones at this price range, if I may say. 🙂
Microphone / Remote
The microphone and remote enable you to answer calls and talk hands-free. When listening to music, all you need to do is press once to pause/play, twice to go to the next song.
One minor thing I didn't like about the mic/remote is it's positioned way too close to the earphones, so it ends up in front of my mouth. I prefer it to be a li'l farther down the cord. 😀 Yeah, we've arrived at the nitpicking part of the review. 😛
Additional Features
Kransen's cord is slightly stiff compared to most of the earphones I've reviewed in the past. This helps prevent the cord from getting all tangled up when you keep it in your pocket or your bag. It's also easier to unknot when you're ready to use it.
If you're a neat freak, you'd be glad to know that Urbanears Kransen comes with a CableLoop so you can keep the cord wrapped and secure. The earbuds also have this SnapConstruction feature that allows you to connect them back to back so you won't have a hard time finding them, or you can even hang the whole thing around your neck. Nice features, eh? 🙂
The Kransen Coral includes 3 sizes of ear buds that you can use and interchange, depending on how fitted you want it in your ear. I used the medium ear pads.
Specifications
10 mm Dynamic drivers
Frequency Response 20Hz-20kHz
Impedance 16Ω
Sensitivity 100mV@1kHz = 100dB SPL
Price: Php 1,950
I think this is a good buy at this price considering the comfort it provides and the clarity of sound.
Where to buy?
All Digital Hub, Digital Walker and Beyond the Box outlets.
Kransen Coral comes in 10 different colors. I would go with Black, Indigo, Dark Grey or Lilac if I was given a choice. But this color – Coral – is gorgeous too. 🙂
GIVEAWAY ALERT!
Want to own this Urbanears Kransen in Coral?! I am giving away this one that I reviewed (don't worry, I'm clean har har har 😛 ) to one lucky reader. Check out the mechanics below for the details! 🙂
GENERAL RULES:
Follow the Rafflecopter mechanics below and check the sample entries too.
There'll be one (1) winner who'll receive this Urbanears Kransen featured in this review.
The prize is not convertible to cash.
The prize will be shipped to the winner's home address.
Giveaway will run from April 28th until May 19th, 11:59pm. Entries received beyond this time won't be counted.
Good luck! 🙂
SAMPLE ENTRIES: