As you might already know, this is my second month with Glamourbox. I posted a quick review of the contents of the January 2013 Glamourbox and I'll be doing this every month to let you in on what's inside their monthly box. For the Glamourbox February 2013, if you'd think there are makeup items included in the box, you'll be disappointed.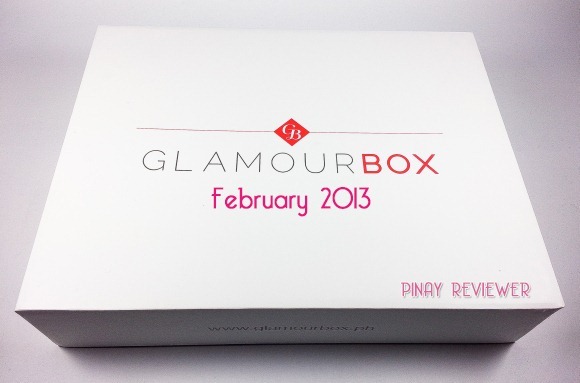 That's exactly how I felt when I saw the contents of this month's Glamourbox. I guess I had high expectations, so when I quickly went through the contents of their February box, my excitement turned to letdown.
As I carefully checked each item, I kept on reminding myself that the point of my subscription to their beauty box is to try out products I won't normally buy or be interested in. Considering the amount of products in this box that I won't actually be using, I wasn't happy.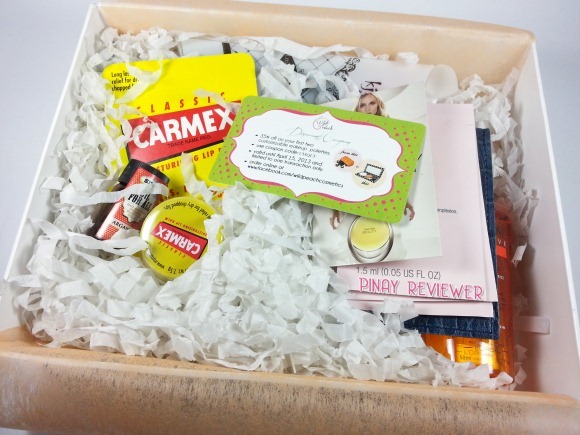 HOWEVER, let me just say this: your reaction towards the contents of this month's box may be completely different from mine. Why? Because we differ in needs and preferences. I just don't find many of the items this month personally useful.
This month's theme is Romantic Beauty: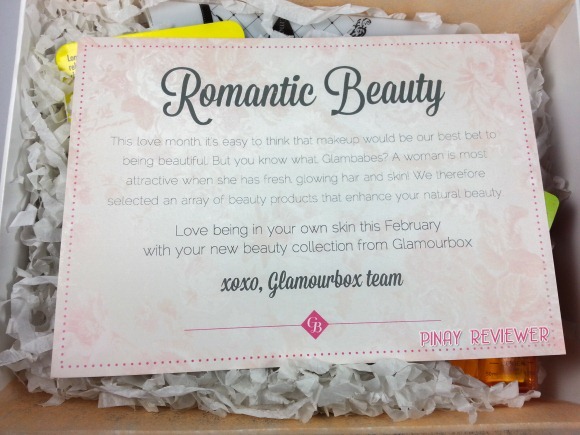 I was looking forward to the February box because I really thought the romantic theme of the month will mean we'll receive at least one makeup item. *sigh* Anyway, without further ado, check out what's inside this month's box, starting off with those that I didn't like:
Php 500 Cuzo voucher
You can only enjoy this voucher with a minimum purchase of Php 1,500. I don't think I'll be using this since I don't like buying bags online. The voucher included a business card holder, by the way.
35% off Discount Coupon from Wild Peach Cosmetics
This and the Cuzo voucher are add-ons, I believe, since they're not consistent with the theme of healthy skin and hair. This discount coupon is for your first 2 customizable makeup palettes. Not sure if I'll use this, but it's good to find out about Wild Peach Cosmetics.
KJI & CO Emergency Lash Rx
This lash serum prevents new virgin hair from being adversely affected by cosmetic and environmental factors. Users will see dramatic improvement in lash volume, texture and density.
I consider myself lacking in lash volume, but I'm not into wearing mascara (unless I've got smokey eye makeup on) or fake lashes. This serum promises to give you results in 5 days of use, so it might help me.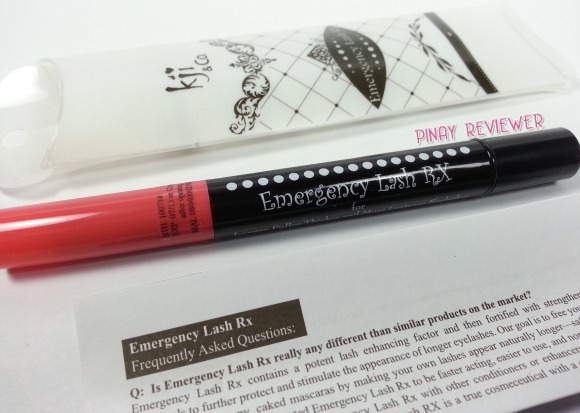 A little tricky to use – yes, I tried it just for the sake of finding out how it works. 😀 But, I'm not so sure I'll continue using it as I'm not that concerned with my lashes.
Price: Php 1,350 2ml – We got the full size of the Emergency Lash Rx.
Calvin Klein Beauty
Sophisticated, confident and radiant. Beauty evokes the ultimate power of femininity and sophistication. It captures the spirit of a woman who is beautiful from the inside out, with an aura that radiates.
I was looking forward to perfume samples, so this was the first thing in the box that I tried. Not a big fan of its floral scent. However, after a couple of minutes, the scent turned out to be slightly tolerable. I had my bro smell the scent and he didn't like it. So, I don't see myself buying this.
Price: Full size Php 5,498 100ml
The Body Shop Vitamin E Moisture Cream
An easily absorbed daily moisturizing cream that has the lightness of a lotion with the moisturizing benefits of a cream. It helps protect the skin, leaving it feeling soft, smooth and healthy looking.
Though I have combination to oily skin on my face, the skin on my arms, hands, lower legs and feet are on the dry side. That's why I can never go a day without lotion, putting more emphasis on my hands as I'm a frequent hand-washer. 😀 I'm currently in love with my St. Ives Oatmeal & Shea Butter lotion, so we'll see if this moisture cream from The Body Shop will make me switch.
Price: Php 695 50ml – We got 3 samples.
Snoe Oil for All Argan Oil
Argan Oil has been gaining recognition for its restorative and anti-aging benefits to skin and hair. High in Vitamin E, this "Liquid Gold" heals dry skin, prevents acne breakouts and reduces marks and fine lines.
I've had issues with breakouts a few months ago and I somehow found a face routine that helped me get rid of them. My face is starting to completely clear out of blemishes, so I'm holding off on using this one.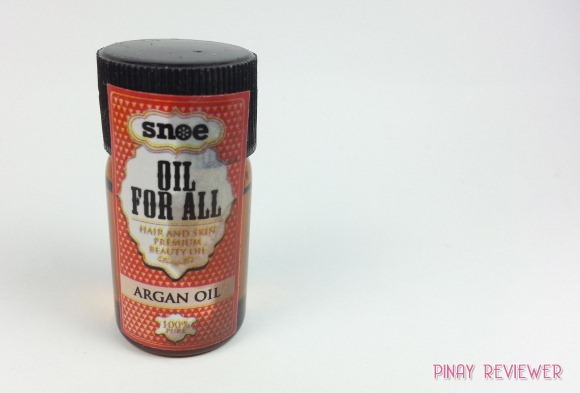 I've wanted to try Snoe products for months now, so I hope they include some of their makeup items in the next months.
Price: Php 799 for 25ml – We received a small sample bottle. Not sure how much is in it as there's no label.
Carmex Moisturising Lip Balm
Carmex Squeeze Tube / Jar contains natural moisturizers such as cocoa butter and lanolin. These and other emollients give you healthy-looking lips by moistening and preventing chapping caused by the environment.
Dry lips is another one of my problems because I used to chain-smoke and drink coffee excessively. I've heard of good things about Carmex. However, I don't think I'll be switching to this from my trusty, inexpensive petroleum jelly, which has worked wonders for my lips. 😀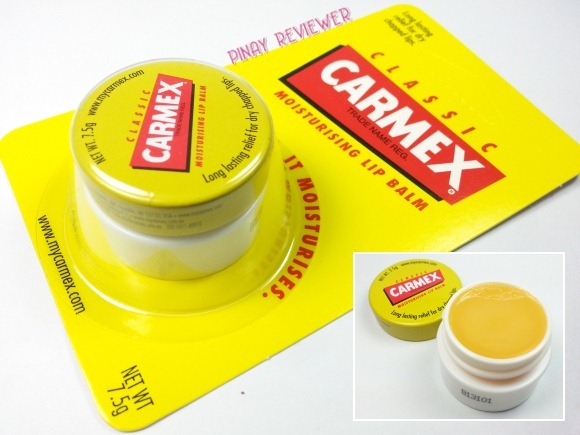 I liked the smell and the feel on my lips of this lip balm, but I was taken aback by the cooling effect I felt after a few seconds. My bro quickly took the jar from me 'cause he had it worse when it comes to chapped lips – now, I'm thinking it's genetics. We'll see how this will work on him.
Price: Php 109.75 for 10g tube or 7.5g jar – I got the full size jar.
Kerastase Fluide Oleo Relax
A leave-in that gives a natural smooth finish to dry, frizzy hair. It offers long-lasting smoothness and shine, leaving hair silky and soft to the touch.
If you check the description on the bottle, it says this leave-in is for "dry and rebellious hair". That's exactly how I'll describe my hair condition. 😀
I've recently had my hair colored, so this came at the perfect time. I think Tony & Jackey (where I had my hair dyed) uses the same product on their clients, so I'm looking forward to seeing the effect of this leave-in on my hair.
I've tried it twice since I got this. At first, I thought it'll give my hair that oily, sticky finish that I hate when using leave-in conditioners. Well, it didn't. I love how smooth it made my hair, making it easy for me to quickly run my fingers through it. 😉 Pang-shampoo commercial lang. 😀
This is the only item in the February Glamourbox that I'm really digging or I'll actually use and buy a full-sized bottle of after I've used up the sample I got.
Price: Php 1,536 for 150ml – I got the 50ml bottle, which is priced at Php 512.
Total Value:
Now, let's compute the total price of the products I received:
Kerastase Oleo Relax – Php 512
Carmex Lip Balm – Php 109.75
Snoe Oil for All Argain Oil – Php 160 (rounded up) – I'm guessing we got a 5ml sample.
KJI & Co Emergency Lash Rx – Php 1,350
Not counting the other samples – The Body Shop Moisture Cream and Calvin Klein Beauty – the items above are already priced at Php 2,000+.
Considering the items I'll actually use – Kerastase and Carmex Jar (for my bro) – Php 621.75. I would've been completely disheartened if it wasn't for the Kerastase leave-in.
I'm currently subscribed monthly (automatic payments) and I don't think this month's box will make me unsubscribe. The concept of beauty subscription boxes just started at the later part of last year, so it might catch on finally with entrepreneurs and beauty brands. I'm keeping my fingers crossed.
However, I'm already thinking of trying out the other boxes, particularly BDJ. I've already tried Sample Room, but I have yet to write a review here. We'll see.
My Wishlist:
For the coming months, I'm wishing they'll include the following:
An eye cream to cure my deep, dark bags under my eyes
Makeup remover (I'm using Etude House)
Foundation or powder
Eyeliner
Nail polishes!
What do you think of the February 2013 Glamourbox? Sound off at the comments section! 🙂