I'm a self-confessed shopaholic. However, for the past few years, I learned how to practice self-control, which paved the way to learning, though gradually, how to say no to those shopping urges and start saving and spending money wisely.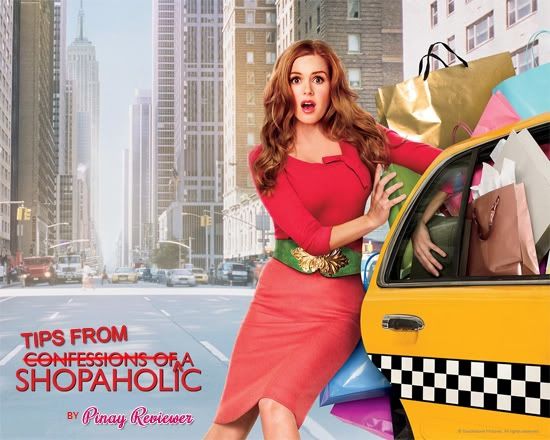 Ever since I started experiencing the convenience of shopping online, I admit, I slightly lost control. Good thing there's always something that puts me back to my rightful path in saving money.
I am not an expert in saving for a rainy day, but I thought of sharing my own experiences and practices in the hopes that maybe, I'd be able to help you start small in saving for your future. Please, please share your own experiences and tips too. It'll be of great help! 🙂
Note: These tips are for shopaholics like me.
I always ask myself questions.
Will I be needing this product in the next days up to a month?
That's one of the questions I ask myself whenever I get this impulse to buy something at the grocery, at a store or online shop. If I say no to the above question, I skip it, but I list it down on my phone for future reference.
Hold on to your wallets at sale events. Stick to your shopping list.
A few weeks back, my brother and I were in S&R for their bi-annual sale. Members can get up to 50% off on different products according to their promotions. But, when we arrived, the items that were half-priced were mostly USELESS to us. I admit, we got tempted a few times to buy things that were 50% off.
So, here's my tip: when you're at a sale event, before buying that 50% off product, ask yourself: would you even consider buying it if it was a regular shopping day? That's the guideline I follow now. I mean, some of you might argue, why would I make a fuss about buying something that MIGHT be useful in the future when it's 50% off?!
Think about it. You're still spending money over something that's not really on your shopping list, which logically means you don't really need it.
ANOTHER important thing is, during sale events, people get into this crazy shopping mood that they start picking up products off the shelves and buying them even when those items were not on sale. I swear, I overheard this guy telling his wife, "Wag ka nga kuha nang kuha, di naman naka-sale mga pinagkukuha mo eh" (Translation: Stop putting those items in our cart. Those items are not on sale."). It's psychology at work: people tend to spend more during sale events than actual saving.
Avoid trying on same products from different brands.
I am so guilty of this. And this tip is for you makeup junkies like moi. Unless you make money or you write about trying out or reviewing different products (cosmetics, gadgets, etc), if you're happy with a product you're currently using, don't move on to the next brand without using up the one you already have. I know, it's tempting, especially when someone you admire recommended it. If the product is there to stay for months or years, or if there's no legit possibility that the manufacturer will discontinue the said item, hold your horses. 😉
Don't stock up.
I'm guilty of this as well. Whenever I go grocery shopping, I usually end up buying extra amounts of something I still have stock of at home. Why? I tell myself, "I might run out of this and it'll take me time to come back and shop for more." The reality is, I always have time to shop again when I need more of something before I actually run out. Unless there's a real threat for us to go panic-buying, save your money for next time.
– – – – – – – – – – – – – – – – – – – – – – – – – – – – – – – – – – – – – – – –
Those are four (4) of my most effective tips in saving money when shopping. My brother and I are now trying our very best to religiously follow them whenever we shop. It can be frustrating, but I know it'll pay off big time.
Some of you might be wondering why I'm writing about saving money. It's because of my future plans of buying my own home and moving out of our place here in Malabon. That's my ultimate gift to myself for working hard all these years. I need to plan ahead, start saving now so I won't have to go through issues of not having enough money to pay off my loans, or wondering who can help me refinance my home (click here for refinance info). I need to keep my shopaholic self in check. Hopefully, by continuing to practice all of the tips I shared on this post, I'd fulfill that dream of a home I can call my own… with a room with my own vanity table, of course. 😉