Back when I was working as a call center supervisor, most of the time, I was assigned to come in to work during the wee hours of the night. So, I had no choice, but, to ride taxi cabs on my way to work.
My work was so freaking tiresome, so, most of the time, my partner Mai and I hail taxi cabs on our way back home. We also ride a taxi after grocery shopping or on our way home from the mall.
And through the years, we've gotten too familiar with the usual taxi fare we pay. We learned how to check if the meter of the taxi we're riding wasn't tinkered. We also discovered a lot of the common excuses and dirty tricks of taxi drivers to try to unfairly get more money out of their passengers. We've seen them all.
In those years, we also gotten into a lot of fights/arguments with taxi drivers. There were even times that the taxi drivers were too guilty that they didn't ask us to pay anymore. Ack. We've seen and heard them all, I tell yah. I even had a longgggg list of taxi cab plate numbers of all the rude, unfair and cheating taxi cab drivers and companies we've encountered throughout all those years.
So, I've decided to come up with a section on this blog for Taxi Cab Complaints. In this section of Pinay Reviewer, I will be posting my complaints against taxi cab companies and drivers who were rude, unfair and cheated me out of my hard-earned money.
The Taxi Complaints section serves as my public service to all to warn other people about the taxi cabs that they should avoid hailing, and, hopefully, to also get these taxi companies take action to fix the complaints or issues I will write about here.
The Taxi Complaints section is also OPEN TO ALL of my fellow Pinoys who had bad experiences riding taxi cabs. If you want me to feature your complaints, please use the Report a Taxi form. Give as much information as you can about the incident, the taxi cab and driver.
As soon as I have a decent amount of complaints, I will send the links to the Philippine government agencies that can do something about it (LTFRB), so, they know that these issues are going on. We need to get those rude and cheating taxi cabs off the highway for everyone's sake!
I will be posting a list of all the taxi cabs, companies and drivers that have been reported here and that were on my list in the past years, which will serve as reference for everyone.
Don't get me wrong, Mai and I love giving tips to taxi cab drivers who deserve it. Heck, we even gave a Php 150 tip because we were so freaking happy with the taxi driver's demeanor throughout the trip. So, ranting about these rude taxi drivers and tampered taxi meters is something we wanted to do for so long to prevent them from fooling someone else… or at least, lessen their victims.
For the first episode of Taxi Complaints, here's an incident that happened to us one night going home from the airport.
Date & Time:
May 21, 2010 at around 6:30pm
Taxi Cab Company & Contact #:
Jareneizel – 444-8450
Taxi's Plate #:
TXG – 123
Complaint:
Tampered taxi meter and rude driver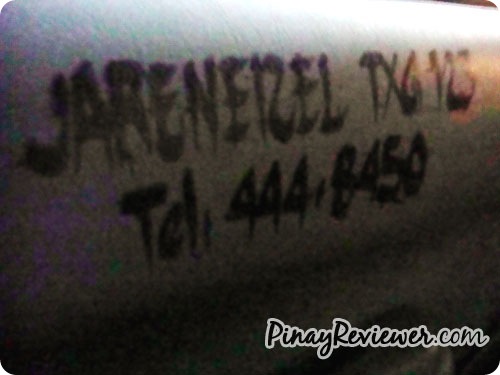 We took this cab from Terminal 3 of the Ninoy Aquino International Airport (NAIA) on May 21st at around 6:00 pm. We only dropped off my partner Mai's family so we didn't have any baggages with us.
We immediately saw that the meter of the Jareneizel taxi was tampered with since the fare displayed on it was quickly increasing. Mai and I were trying to real hard to ignore it and just let it be since we were in a bit of a hurry to get back home. The fare was increasing really quickly that we were afraid we'll be paying Php 100-150 more than we usually pay without our consent.
What ticked us off was when the driver started to complain. He kept on mumbling all sorts of complaints. The traffic was heavy on our way to Roxas Boulevard. We asked him to take that direction 'cause we know it's the faster way to Malabon.
The driver kept on complaining, to the point that he was starting to bang the steering wheel, and I couldn't hold it any longer. I told him to stop his complaints about the traffic because his taxi's meter was so freaking fast anyway, it'll even be good for him that we're stuck in traffic. Then, he started insisting there's nothing wrong with his taxi meter. We told him it's not our first time to ride a taxi from the airport to our home, and pass the same streets with that same traffic, so we know that his meter's really tampered.
The driver started to get defensive and was yelling at us. It was pretty funny to watch. We've seen that before. He's upset 'cause he's guilty. He knows about the "butingting". So, we told him that he shouldn't be mad at us. We were just telling him that there's something wrong with the taxi meter, we weren't telling him we won't pay him. I told him that he should've just said "Pardon, ma'am. I'll let the management know about that." (Pasensya na po, sasabihan ko po ang management namin). But, nooooo. He started getting personal, telling us we're just trying to trick him into not paying. Hilarious, really. We've had other taxi drivers telling us the same thing. *LOL*
So, I told him to just shut up and drive us to our destination. I also said we don't have problems paying any amount as long as it's fair. And I told him to just drive and we'll pay whatever amount your meter displays once we reach our destination.
He got really upset and I'm betting his ego got the better of him. So, he said, he doesn't need our money. And, to our surprise, he stopped his taxi at the side of the road, near SM MOA, and asked us to get off. We gladly did while laughing our butts off. Mai said to him before we got off, "You don't need our money, but, you're a taxi driver?".
I mean, really. We were ready to ignore how fast and tampered his meter is. But, his rudeness and nonstop complaints were intolerable! Sheesh! Imagine, the taxi meter already displays Php 180 and we were just near MOA. That's how fast his meter was going!
We were trying to hire another taxi, but, all that passed us already had passengers. So, we decided to head off to MOA and take a cab from there in the hopes that we'll have better luck.