After winning all those kikay prizes I posted the other day, here I am again, joining yet another beauty giveaway. I want to try different beauty products and joining giveaways like this not only saves you the trouble of buying them yourself, but also sampling products you won't usually buy yourself or aren't readily available to you. This time, I'm joining the Summer Giveaway of Kikay si Maria, Makeup by Anna Patricia (my favorite makeup artist to-date!) and Shimmerjjang Andy.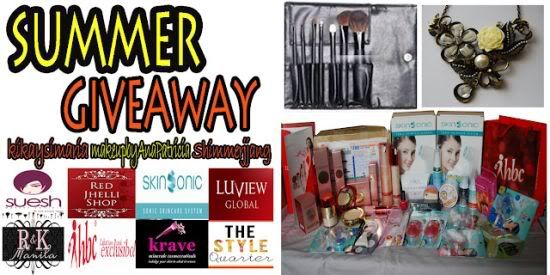 The prizes amount to a whopping total of Php 17,900! There are 3 sets of prizes you can win. First 2 prizes amount to Php 4,499 each and they include the following:
Skinsonic System – It cleanses, exfoliates, hydrates and tones your skin. I want to win this oh-so badly! It's priced at Php 2,799!
Suesh 7-piece brush set – I bought a Suesh angled brow brush and I loved it! So, yes, I want to win this too! Price is Php 1,300
RK Manila necklace – I have to admit, I used to not like anything hanging down my neck. But, I learned to love to accessorize more now because I have outfits that just don't look complete without something extra so, yes, I want to win the necklace they're giving away that's worth Php 400.
The last package's total worth is Php 8,902.60 (me butal 😉 ). Included are the following:
LuView cosmetics – Cover BB Cream, Lip gloss, mascara, whitening capsule, and sun powder. I won a magic BB cream from Kikay si Maria's giveaway before so I want to win this too. I'll write a review of the BB cream here vvery soon.
Suesh 7-piece brush set
Makeup and a lot more! Just check the giveaway page for more details 'cause they're too many to re-type here 😀
I've joined a couple of giveaways lately, but this is the one that I'm most excited about. I hope I'll be lucky again to bag any of the 3 sets of prizes. I'll write reviews here of the prizes if I win. Good thing there's a long weekend coming up so I can finally finish my reviews of my past kikay prizes.
I now prefer winning makeup or any beauty products over other prizes. But, I still join others with prizes like restaurant gift certificates, hosting, logoed golf balls or shirts from different companies/brands, and home improvement products because I can give them away to my friends or my closest kikay cousin (who got a bag of goodies from me last week 😀 ).