I was excited to test this pair of RHA MA450i earphones because I've heard good things about the brand. When I opened the box and inspected the materials used, I was immediately impressed and thought it's well-built.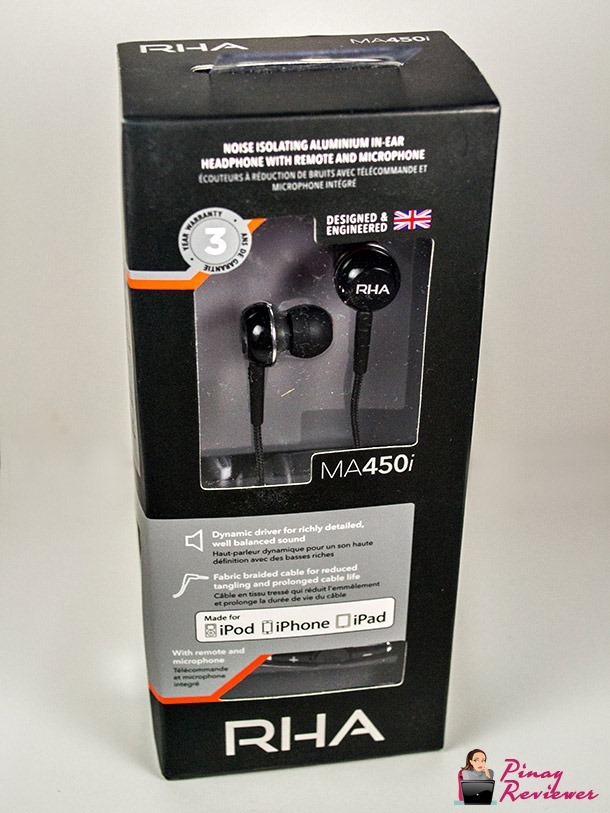 *Note: RHA MA450i was made for Apple devices (iPhone, iPod and iPad), but I mostly used it with my Android device. I connected it to my bro's iPod and my review remains the same, except for the remote control features.
The earphones are said to be made from aircraft grade solid aluminum, ensuring maximum strength and durability. I actually like the feel of the earphones. They look (and feel) like they're going to endure a lot of stress, which is great for those who love the outdoors or traveling. Though it's made of aluminum and slightly "heavier" than other earphones, you'll barely notice the difference.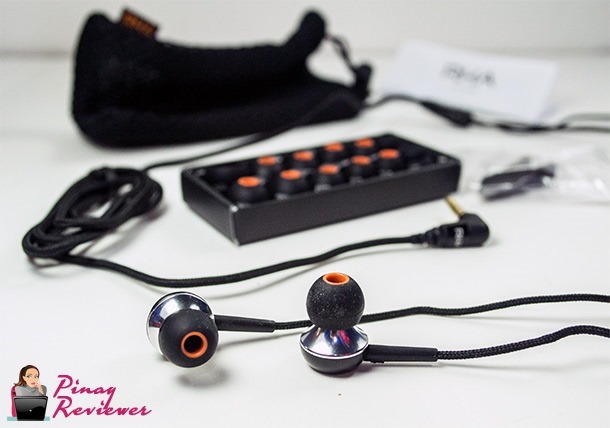 The intra-aural earphones of the RHA MA450i come in this bell shape, which I think is cool and definitely helps with noise isolation. I can barely hear any background noise at mid-volume. You also get 7 pairs of rubber tips to ensure you get the best fit to maximize the noise-isolating feature of these earphones.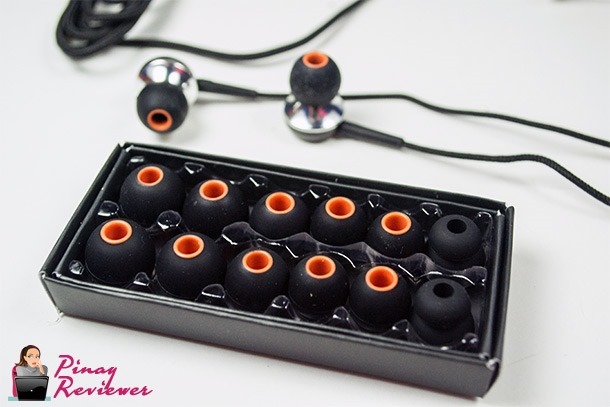 It might be tricky when you replace the rubber tips, but they feel secure enough so you know they won't fall off the earphones, which is good for those who'll use this while working out.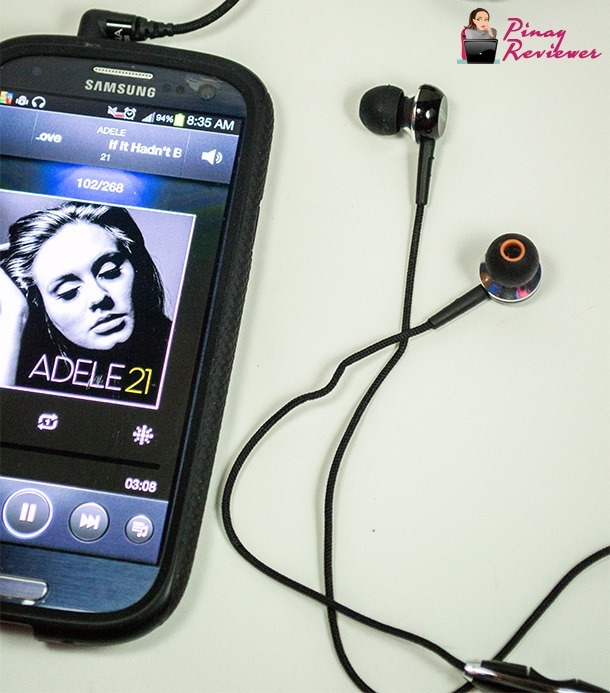 The only thing I'll comment on is the fabric-braided nylon cable. I've had experiences with this type of cable where it didn't hold its shape and was disentangled (I'll update this post if this ever happens). The cable also got tangled up inside my bag when I tried bringing it with me even when I used the carry case.
Sound Quality
Audio quality-wise, the sound was well-balanced. It wasn't as bass-heavy as I wanted, but it definitely is rich and decent. Since I mostly listen to R&B, alternative and pop genres, the sound quality of the RHA MA450i was impressive enough for me.
Other Features
The RHA MA450i has this new iOS device hands-free feature and 3-button remote, which is easy to touch and navigate even when you're not looking. You can use this to answer calls, control music playback and volume on your iPhone or iPod.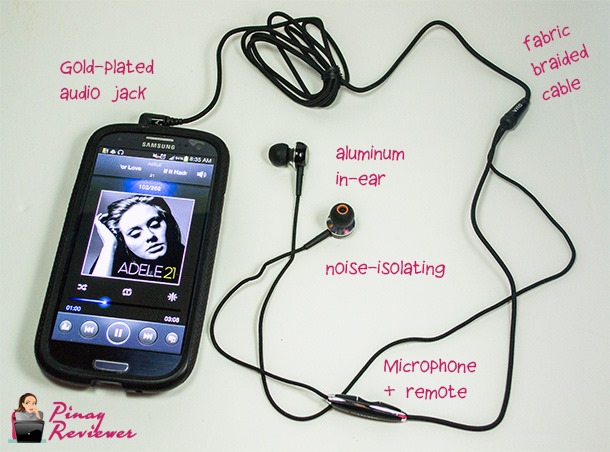 As I mentioned earlier, I also used this on my Samsung Galaxy S3, and I was able to answer calls with it and play/pause music, but I couldn't navigate through songs, which is fine by me since I have dedicated playlists on my phone.
The price may be a li'l higher than I expected, but it definitely delivers. If you're looking for a highly durable pair of earphones that packs a punch in terms of sound quality, the RHA MA450i is worth the purchase.
Price: Php 2,650
Included:
MA450i in-ear headphone – black
6 pairs, dual density ear tips – S x2 / M x2 / L x2
1 pair, double flange ear tips – S x1
Ear tip storage box
Fabric carry bag
Clothing clip
Specifications:
Drivers: 130.5 Dynamic
Frequency range: 16-22,000Hz
Impedance: 16ohms
Sensitivity: 103dB
Rated/max power: 3/10mW
Weight: 14g
Cable    1.5m Fabric braided
Connections    3.5mm, 90°, gold plated
Where to Buy:
RHA MA450i is distributed by Digits Trading (Facebook, Twitter) and this is available at the following stores:
The A-Shop, Digital Hub, Digital Walker, Astrovision, Automatic Center, Beyond the Box, Bratpack, Complink, Digital Arena, Digital Hub, District 32, Egghead, Electroworld, Heima, Hobbes and Landes, iCenter, iGig, Islands and More (NAIA T3), iStore, iStudio, Lazada Online, Listening Room, Mobile 1, Music Colony, iBook, Quicksound, R.O.X., Secret Fresh, Senco Link, SM Music & Video, Switch, Sync, The Inbox Store, Trilogy, Urban Athletics, Vertex, iBook