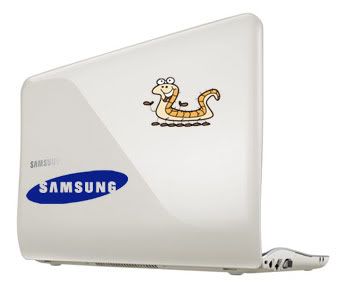 It's Holiday Gadget Swarm Week III over at A Bugged Life. This week, you can win a Samsung Shark Series SF410 Gaming Notebook from A Bugged Life and Samsung.
MECHANICS:
Taken from the official contest page:
1. By now you already know the drill. You can submit entries from now till 11:59 PM of December 11. I usually announce the winner by the evening of the next day, the 12th.

2. Since Samsung has been around since the time we were kids (and even before!), I'm reminded of a fun game we used to play. Remember how we'd turn names of countries into acronyms and use it to spell out words? For example, take the country of ITALY:

I
Trust
And
Love
You

Now it's your turn. Let's see how much fun we can have with Samsung! Remember, I'll be asking help from someone from their team (with me having the final say) so please, nothing vulgar. Have fun! Be creative! Make us laugh!

S
A
M
S
U
N
G

3. Entries can be in English / Filipino / Taglish. Just like before, you can submit as many entries as you want in the comments but make sure you leave a valid email address.
END DATE: December 11, 2010
I'm joining this one! I want that gaming notebook! Woot!
Congratulations to fellow blogger Ellen for winning the Lenovo Ideapad last week. Woot! 🙂