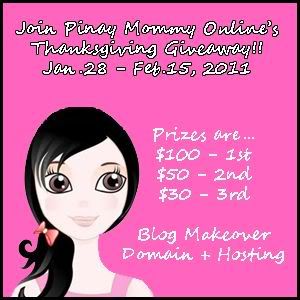 Get a chance to win cash prizes from Pinay Mommy Online by Mommy Rubz. Join her Thanksgiving giveaway! Total cash prize is $200!
MECHANICS:
Required Entry: 5 Points
Optional Entries:
Refer participants to the giveaway and make sure to advise them to put your email address (the one you used for joining) on the Referred By field of the participants' sign up form.
Follow Pinay Mommy Online using Google Friend Connect. – 1 Point
Follow Pinay Mommy on Twitter. – 1 Point
For the complete mechanics, check out the contest page.
PRIZES:
First Prize:
$100.00 Cash
WordPress/Blogger Make-Over
COM Domain + Hosting for One Year
Second Prize:
$50.00 Cash
COM Domain + Hosting for One Year
Third Prize Winner:
$30.00 Cash
COM Domain + Hosting for One Year
Special Prize Winner:
Most Number of Referred Giveaway Participants
$20.00 Cash
COM Domain + Hosting for One Year
END DATE: February 15, 2011