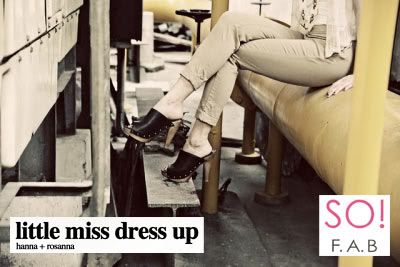 Win a pair of So! Fab shoes from Little Miss Dress Up!
I love So! Fab's wedges so I'm joining this giveaway. Good luck if you're joining too! 🙂
MECHANICS:
Visit www.sofab.com.ph to check out the shoe collection.
Choose a pair of shoes you'd like and two other options.
Follow So! Fab on Twitter.
Like So! Fab on Facebook.
Follow LMDU on Twitter.
OPTIONAL:
Make a post about this contest on YOUR blog.
Follow Rosanna & Hanna's twitter accounts:
Follow LMDU on Blogger or Google Reader.
Leave a comment on the giveaway post or email littlemissdressup@gmail.com with the following info:
Twitter account name
Link to your Facebook account
Link to your blog post about the giveaway
The shoe style of your choice
Your name and email address
This giveaway is only open to Philippine residents.
END DATE: February 11, 2011