Celebrate Jes' 30th Birthday by joining her giveaway. Here's your invite!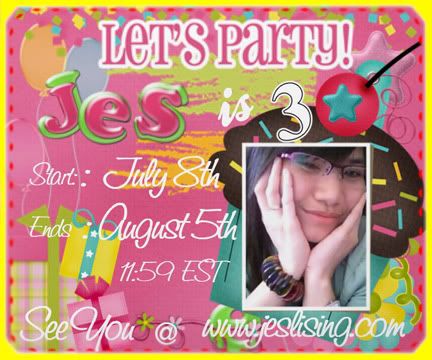 Here are the prizes for her birthday giveaway:
First Prize: $80 cash
Second Prize: $50 cash
Third Prize: $30 cash
Special Prizes:

Top 3 Commentators:

$20 cash plus accessories from Pink Fortune
$10 cash plus www.oneproudmommy.info DOMAIN *only*
$10 cash

Best "memorable birthday party" story:

$20 cash plus domain and free 1-year hosting from Rabago Family Escapade worth $20.00

Consolation Prizes: The first 30 participants will all receive a personalized notepad from Jes as her birthday souvenir. It's all pink and pretty, plus you can customize it with your own photo! Nice, eh?
For the complete mechanics, click on the banner above or here.
To you, sis Jes, ADVANCED HAPPY BIRTHDAY! Welcome to the club! ^_^