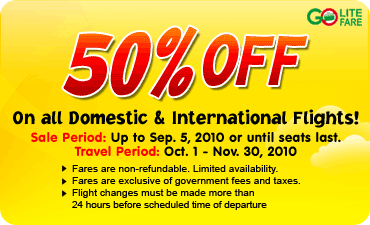 Cebu Pacific is at it again with their latest promo – 50% off on all Domestic and International flights!
If you are planning on travelling from October 1 to November 30, 2010, then, HURRY because the 50% off promo is only up to tomorrow, September 5, 2010!
Cebu Pacific is offering this 50% off promo on its 33 domestic and 16 international destinations. That means ALL of their flights during the travel period is at 50% off! So, book and buy your tickets now while seats are still available!
I hope they'll have another seat sale for March 2011. We've got no plans yet of travelling this year so I'll  be waiting for their next promo.