As much as possible, I stay away from gadgets that are clingy. 😀 You know, electronic devices that need to be connected to my smartphone, laptop or desktop using a wire/cable. That's why audio devices like NudeAudio Move S, a portable Bluetooth speaker, highly appeal to me.
The Move S is an ultra-portable speaker that allows you to play or stream music wirelessly from any Bluetooth-enabled device.
Connecting Through Bluetooth
Connecting the NudeAudio Move S to your device is quick and easy as 1, 2, 3. You simply press on the Bluetooth button for about 2 seconds 'til you hear a beep from the speaker indicating that, well, the Bluetooth is enabled/on. 😛 Then, you'll see the blue light is blinking.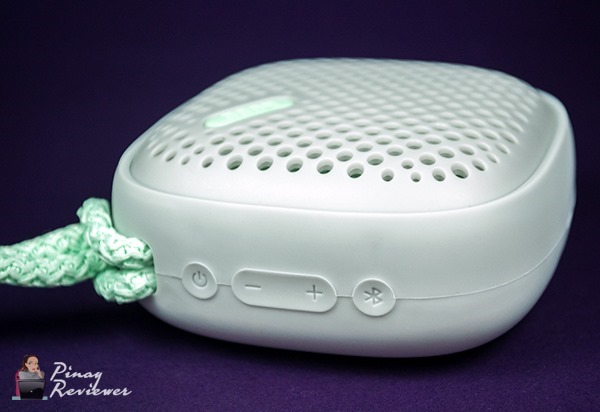 On your Bluetooth-enabled device like my smartphone (S3), turn on your Bluetooth and scan to locate "Nude Move S". Select it to pair your device with the speaker. You'll hear a beep from the speaker to notify you of a successful connection. Plus, the blue light will stop blinking.
You can now start playing whatever music (or even video) you'd like to listen to and do so wirelessly. 🙂 Oh, and the Bluetooth turns off automatically when it's not in use for a long time.
The distance this portable speaker supports can be up to 10 meters or 30 feet. I tested this, leaving my room with my phone and walking towards our kitchen to see what will happen with all the thick walls blocking my phone from the Move S. Music continued to play seamlessly.
It uses 3.0 Bluetooth wireless streaming technology. You can connect your smartphones, tablets, laptops and other Bluetooth-enabled devices like the iPhone and iPad. It can also remember up to 8 devices so it'll connect automatically, which means you only need to pair them once.
The Nude Audio Move S speaker also allows you to connect your device to it directly using the audio port, but the problem is, it doesn't include any cables for it.
Sound Quality
It's small yet the sound quality is surprisingly topnotch for its size. Check out the short clip below that I recorded so you can hear for yourself how loud the sound can get with this tiny portable speaker.
It pumps out very crisp sound and bass. You can even feel it when you're holding it. Definitely worth the purchase. 🙂
NudeAudio Move S Design
As you can see from the photos and video, this is small enough to fit in your pocket. Though it might be a little bulky once in your jeans' pocket, it's not much of a clutter if you bring it with you in your bag. I'm sure this will be quite useful to me in my upcoming travels.
The speaker itself is protected with a thick silicon material that's rubberized to the touch so it doesn't slip easily and also protects it from bumps. For clumsy people like me, that's a big plus. 😉
There are 3 easily clickable buttons on the side for power, Bluetooth and the longer button is for adjusting the volume.
Charging and Battery Life
The NudeAudio Move S speaker boasts of an 8-hour battery life. They use a lithium-ion battery that can be charged using the USB cable that comes with the package.
If it needs to be charged, you'll see the Power LED light turning red and you'll also hear an audio/beep alert. When you're charging it, the light will turn to blinking green and will stay on when completely recharged.
According to what I read about this portable speaker, it can hold on to 50% of its power for 3 months when not in use, which is a big deal for me since I'm a little lazy when it comes to recharging my devices. 😀
Overall, I love the NudeAudio Move S portable Bluetooth speaker and I highly recommend this for anyone looking for a stylish, portable wireless/Bluetooth speaker. I would prefer it in a darker color just so I don't have to worry about cleaning it every now and then, but performance-wise, this is an excellent Bluetooth speaker for its size. Your very own portable boombox. 😉
Price: Php 1,990
Where to Buy: Distributed by Digits Trading (Facebook, Twitter). Available at the following stores:
Banana Telecom
Beyond the Box
Digital Hub
Digital Walker
E-Central
Electro Computer Data System
Globotel
iGig
iStudio
Microstation
Powerhub
Viewers Telecom
8Telcom
Unboxing Photos
Here are more unboxing photos of the Move S speaker.