If you've been following this blog and you've read my past reviews, you'll know that I'm an audiophile. I'm very picky when it comes to audio players and sound systems I buy and use, and I don't mind spending a premium to get the quality I want. Thankfully, when it comes to listening to music while mobile, I can count on my newKube mp3 player.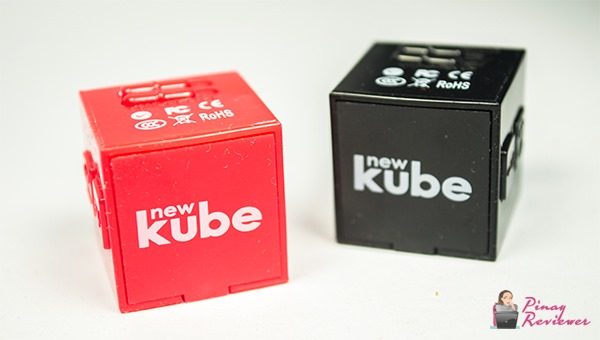 newKube is the smallest mp3 player I've seen so far and it's super cute! When I finally got hold of this for my review (and a giveaway – read on!!), I was honestly unsure if it'll deliver high fidelity sound because it was too fricking small. 😀 Didn't they say to not judge a book by its cover? 😉
First impressions: The newKube mp3 player is made of plastic. I haven't really dropped this to the ground yet (not that I'm planning to – I wouldn't risk it :D), but it looked durable enough to handle a few drops.
It's really small, if you haven't realized that yet, that I can hold it with just 3 fingers, or even 2. It's like holding a die or an ice cube.
On each side, you'll find the different buttons and controls you can use for playback. On one side, you'll see the Play and Pause button. That small circular hole you'll see here is the light indicator. It'll light up in red if it needs charging, or blue when it's full, or blinking blue when playing a song.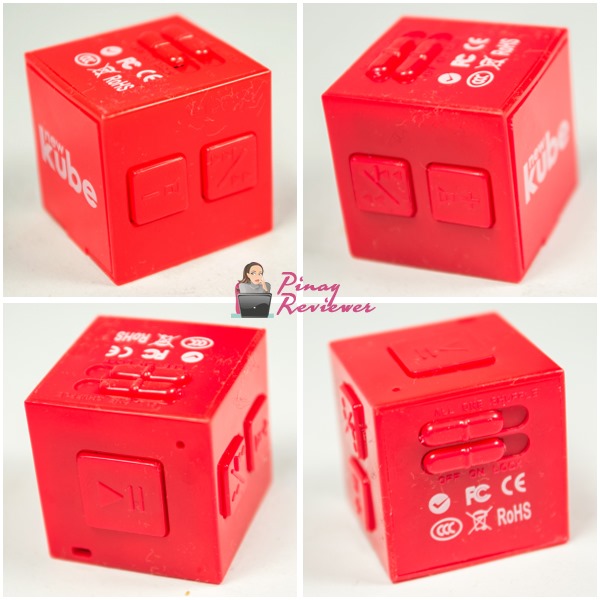 On two opposite sides, you'll find the volume control and previous and next buttons. Then you'll find these 2 small controls that you can easily slide into place to use their functions. The top control has functions for playback: All (normal playback), One (loop one song – I love this!), and Shuffle (random playback).
Then the second control is for Off, On and Lock. Based on my experience, the lock control is VERY helpful to prevent any accidental pressing on the buttons, especially when it's in your pocket or bag. I tried not locking this while in my bag and it's irritating that it keeps on getting pressed to go on to the previous or next song, or even pausing. Smart for them to add this lock control. 🙂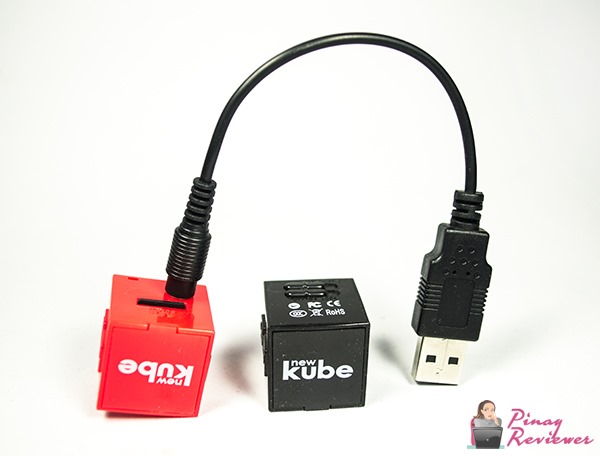 Finally, there's this one side of the newKube mp3 player that's meant for your headphones or USB-audio jack, and for the microSD memory card slot.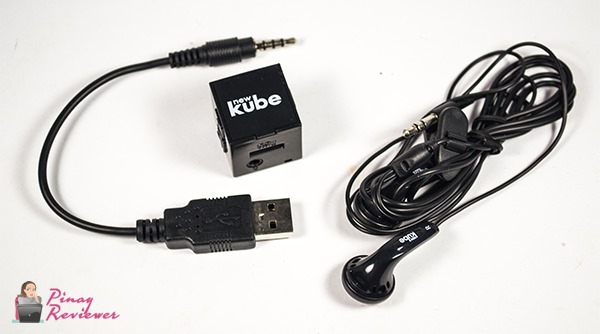 The package comes with a 2GB microSD memory card, by the way, so you can start downloading your favorite jams into the card. And there's a pair of earphones included too.
What I love about this, aside from the sound quality which I'll talk about in a few, is the microSD Card memory slot. You can expand the memory and you're no longer limited to the pre-defined internal memory that's usually the concern with other mp3 players. Very inexpensive to invest on this mp3 player 'cause you don't have to buy a new one in case you want to increase the memory. 🙂
For me, this is extremely useful if I want to swap memory cards easily. For instance, I can have one microSD card filled with songs for my workouts, for traveling, and for leisure listening. You can even use this for audio books. Since they're large files, you can use a microSD card of up to 32GB in capacity. Awesome feature, right?! 🙂
You can fill up the memory card using the USB charging cord, or use a separate card reader if you like. Oh, this mp3 player may even double as your microSD card reader. 😀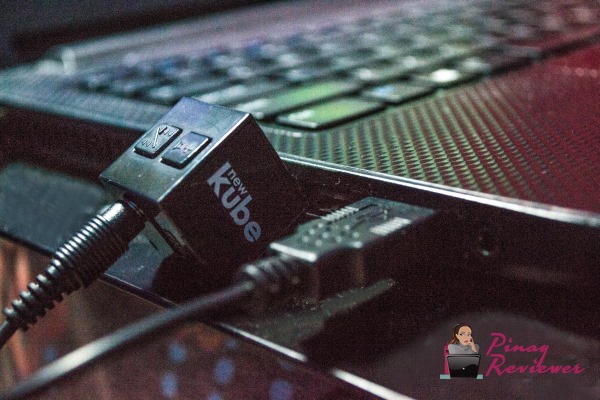 Also, as advertised, the newKube mp3 player has a long-lasting battery power that can stay on for up to 6 hours – perfect for travelers! 🙂
My only problem with this is the slightly pointed corners. Okay, I think it's cute, but it doesn't look good inside my fitted jeans' pocket. It's a li'l bulky when placed in there and it can hurt you even when you accidentally bump into something. This isn't really a big deal for me since I prefer to keep my mp3 player in my bag. They're safer in there anyway. 😉
Now, you might be wondering about the audio quality. I was pleasantly surprised! 🙂 It's very small yet packs a punch when it comes to sound quality. The bass is hard-hitting, and audio is clear. Even my bro who's a very particular audiophile was impressed. 🙂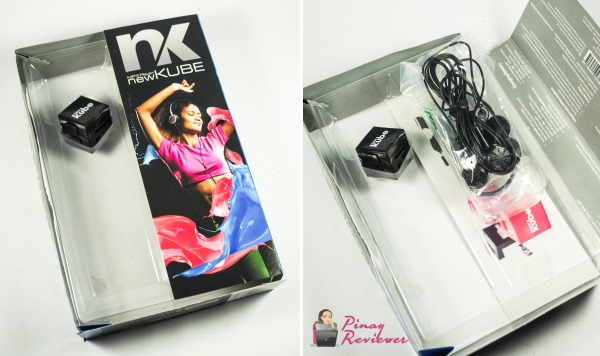 The newKube MP3 Player is priced at Php 1,599 – fair price considering the features you'd get and the audio quality. They come in 4 different colors – red, pink, black and white. You can buy them from selected Astro stores or their website: www.myastroplus.ph
newKube MP3 Player
(GIVEAWAY HAS ENDED)