Ever since I was diagnosed with PCOS over a year ago, I have been really conscious about my health status. Yes, I do live with 2 nurses at home, one's practicing (my nanay), but it was only a few months back when I started taking my health more seriously. That's why I'm thankful for our health / medical insurance that would cover most of our needed checkups. And for everything else, there's Healthy Deals Philippines.
A Healthy Deal for me is one that'll provide me the means to get the utmost care and attention to help me improve my health and living without the added financial woes because of expensive costs of medical or health-related services. And this is why when I found out about the group-buying site Healthy Deals, I was immediately driven to sign up and spread the word about them because of what they're trying to accomplish.
Unlike the other group-buying sites featured on this blog (check the sidebar), Healthy Deals focuses on bringing us deals or bargains to promote better health and wellness. They believe, like I do, that being and staying healthy don't need to be pricey.
For instance, our health card doesn't cover any dental services (teeth cleaning, whitening, etc). I've been wanting to have my teeth whitened and undergo a dental checkup because I also believe that oral health is VERY important. Plus, a beaming smile can bring a ton of difference in how people perceive me. 🙂 I can actually get a HUGE discount if I buy this deal from Healthy Deals: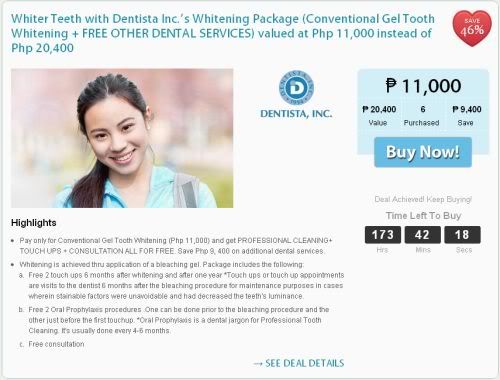 That's just Php 11,000 for a whitening package (conventional gel tooth whitening PLUS free other dental services) that originally costs Php 20,400. That's 46% OFF and you'd get the best dental care from Dentista, Inc., a group of specialists who have been ensuring dental wellness for 17 years.
Click the banner above for further details or go here to avail of the promo.
If you're someone like me who's happy about Healthy Deals  and their goal to promote health and wellness at an affordable price, then, you might be interested in helping spread the word about them too. You might even win an Apple iPad 2! For the mechanics, click on the banner below to join the "What's a Healthy Deal?" Bloggers Raffle Contest.
Make sure you follow HealthyDeals.ph on Twitter (http://twitter.com/healthydeals_ph) and on Facebook (http://www.facebook.com/HealthyDeals.ph) for more updates on the latest deals and promos.
Good luck and stay healthy everyone! 🙂