One of this year's best innovative ideas are the group coupon (some call it groupons) websites that were recently launched here in the Philippines. If you're not yet familiar with this concept, let me try to explain how it works.
People behind group coupon websites sign an agreement with different merchants (restaurants or any lifestyle business establishments in the Philippines) for a huge discount or deal in exchange for guaranteed number of customers and the marketing/advertising they get from these group coupon websites. It's truly an amazing deal for both merchants and customers because of the following reasons:
Customers who use group coupon websites and avail of the amazing deals are mostly people who are interested or want an excuse to try something new. I'm one of these people that's why I'm subscribed to a couple of group coupon websites, including the newly-opened

Local Roam

.
If you just opened a new restaurant or lifestyle business establishment, then, it's the perfect way to get the word out to customers, especially if your products or menu is unique or new to the Filipino taste.
Customers get huge discounts, up to 90% off! This is, of course, what I love most about group coupon websites.
It's very convenient to purchase coupons online. Most group coupon websites offer different payment methods including Paypal, credit card (Visa and Mastercard), PayEasy (EastWest Bank, Unionbank, BDO, BPI, RCBC, Metrobank, Chinabank, DragonPay, G-Cash), debit cards and even walk-in payments.
Before I tell you about the new group coupon website launched by friends of a friend Local Roam that you MUST subscribe to, let me just give you a brief explanation of how group coupon websites work or how to navigate your way to getting that best deal so you can already take advantage of them.
Check the website daily for great deals. Group coupons also have an email subscription (even SMS) so make sure you submit your email address so you'd get notifications in your inbox.
Review the discount and what you'll get with the coupon. Most of the time, you'd get 50% discount from these group coupons. Read the fine print or the details about the deal, especially the dates when you can use the offer.
If you're interested in the deal, then, click on the BUY button.
Go through and finish the payment process. You can buy more than one coupon. But, take note that some group coupons have a limit as to how many you can buy.
If the minimum amount of people avails of the deal/promo, then, the deal is on. If there are not enough coupons bought, then, you'll get refunded and the deal will be cancelled.
Once the deal is on, you will receive your purchased coupon in your email inbox. You can then print it out and use it whenever you want within the dates the offer is on.
Pretty easy, right? I've wanted to buy coupons for the past weeks, but I've been really busy, I know I wouldn't be able to take advantage of them anyway. BUT, I believe they're the BEST gifts to give to friends so I'm now just waiting for the right deals to give away. 🙂
Introducing: LocalRoam.ph
So, I want to introduce you to the newest group coupon website. Local Roam. This was established by the same people behind the free City Guide, headed by Mike Alimurung as director. And, guess what their first deal is: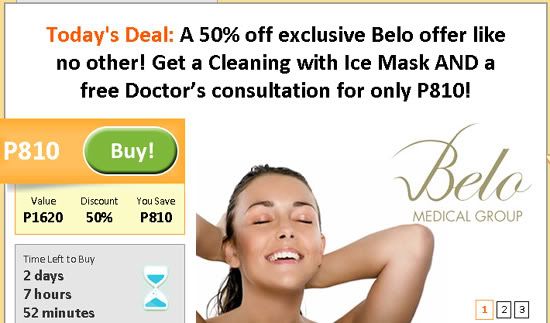 A Belo Medical group EXCLUSIVE offer of 50% OFF on their Ice Mask and FREE Doctor's consultation for only Php 810! The minimum is 20 and as of this writing, there are already 10 coupons bought! Click here for more details about this deal on the Local Roam website.
Also, aside from the great deals you can get from Local Roam, you can receive Php 100 just by referring friends to sign up and subscribe to their group coupon website. So, let's help spread the word about Local Roam for more great deals in the future!
Here are a few more group coupon websites that you should join and subscribe to for more great deals: (List updated on 12/10/2010)
Pakyaw.com.ph – The newest addition to the growing number of Group Coupon websites in the country.
Beeconomic – They were acquired by Groupon who started the concept of group coupons worldwide. You earn Php 150 per referral when they make their FIRST purchase.
Buyanihan – You can earn reward points for referring people.
CashCashPinoy – You earn Php 100 for referrals.
Ensogo – You can earn Php 200 credits for referring friends.
eTreet – No referral bonus. Their website is the cutest! 🙂
Awesome – From Boy Kuripot, Our Awesome Planet and Top Blogs PH
Twangoo – You can earn as much as Php 280 per referral.
Soon to Launch Group Coupon Websites:
Happy group coupon shopping! 🙂