Since my first 2 Glamourbox unboxing posts back in January and February, I have received 3 more boxes, including the Bridal Bliss box last June. I also got the March box before I decided to stop my subscription in April, which was pretty timely since a friend of mine sent me her box as a gift. I just felt like the contents of the boxes weren't that useful to me and I wasn't completely happy with what I've received so far, so I decided to quit them.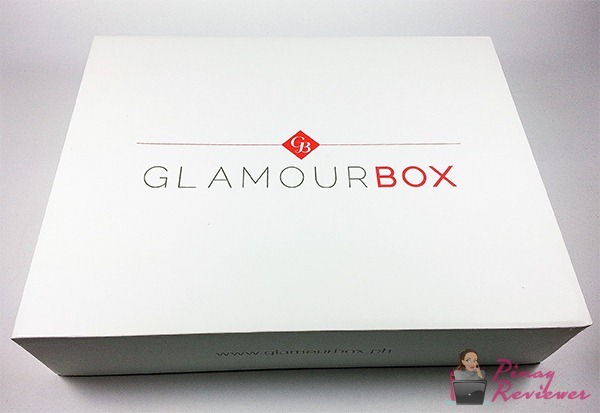 I know, I said it's a matter of personal taste and needs if you'll find the items in the box useful or not. At the time when I received the January to April boxes, I had no use for most of the items yet. However, before we went grocery-shopping early June, I decided to go through some of my beauty products stash, most were from Glamourbox, and I found some that I actually wanted to finally try. That saved me money from buying new products to sample. And out of the items I tested, I'm sticking with 3 of them, which I'll reveal in my next post about my beauty boxes haul. Some of the items were lovingly passed on to my mom and friends. 😉
Glamourbox Bridal Bliss Box
Anyway, this post is about the Glamourbox June Bridal Bliss box, so let's get to it. 😀 Many of the blogs and comments I read about this box were from disappointed ladies. They were expecting the products to be one-of-a-kind compared to the previous boxes since Glamourbox hyped up this box too much because of the focus on the theme Bridal Bliss. On my end though, this has got to be the most useful Glamourbox I've ever received. 😀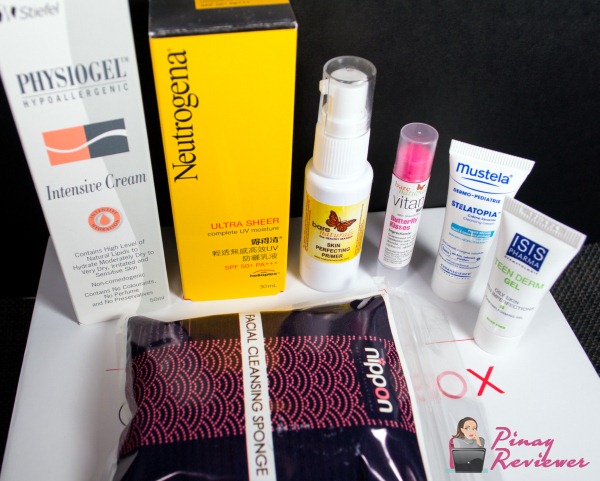 When you say Bridal Bliss, what really comes to mind are skincare products or how brides take care of themselves and their skin right before their wedding day. So, I didn't expect any makeup products to be included.
Bridal Bliss: In this season of weddings, we can't help but feel the joy and excitement in the air! May our skin-perfecting beauty selections prepare you for these blissful celebrations.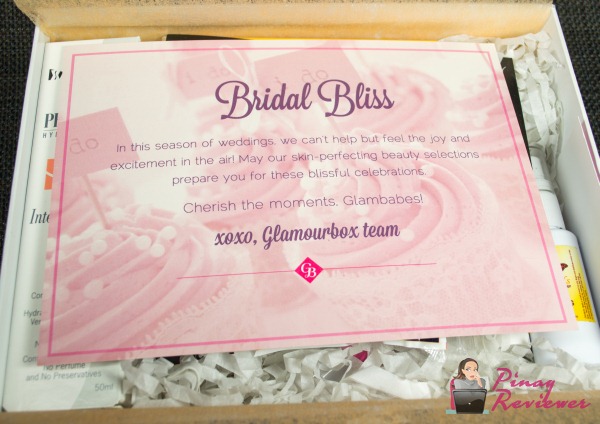 Favorites from Glamourbox Bridal Bliss Box
Let's start with my favorites from the Glamourbox June 2013 Box:
Neutrogena Ultra Sheer Complete UV Moisture Sunscreen
This sunscreen provides complete, long-lasting protection against UVA/UVB rays. Its moisturizing formula spreads on smoothly and leaves an ultra-light, non-greasy finish. Full size: 30 ml, Php 460
I admit, I haven't been kind to my skin as I'm not into sunscreen. I guess I'm not a fan of wearing sunscreen because of the products that I used that were either greasy or made my skin too fricking white. 😀 I especially hate applying sunscreen on my face, but since I'm now in my early 30s, I have to be mindful of how the sun is affecting my skin.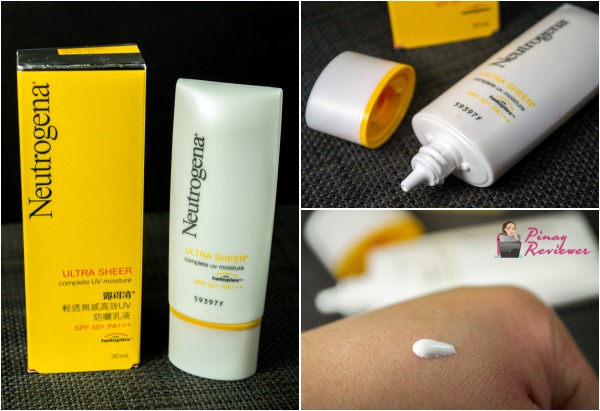 Soooooooo, to keep this short :D, I am in love with this moisturizing sunscreen from Neutrogena! First, it spreads on smoothly, but it does dry up quickly, so you have to hurry up with applying it all over your face and neck.
I have oily skin, and I can't get over its non-greasy finish. Very light on the skin, so even when I use it on top of my moisturizer, and I put on my primer (see next product) and BB cream right after, I don't oil up like crazy. And they weren't kidding when they said it's ultra sheer, by the way. I went out wearing just this and some powder, and no one would ever guess I was wearing sunscreen.
This is now my sunscreen of choice. Plus, it has SPF 50+, which means I don't have to re-apply as often as the previous product I used.
Barenaturals Skin Perfecting Primer
This non-pore clogging skin primer has the purest natural ingredients that mattifies the face, keeps oil at bay and helps makeup last.
Full size: 30ml, Php 398
I'm running out of my old primer, so I was in the market for a new one. Imagine my glee when I found this in last month's Glamourbox! 😀 I've heard of Barenaturals, a local beauty brand, but this is the first time I've actually tried their products.
This primer does mattify your skin and so far, it's been keeping its promise of making my makeup last longer. It also made my skin look smoother, as you can see in the photos. My makeup also glides on more smoothly, especially my concealer.
But what I love most about this Barenaturals Skin Perfecting Primer is it contains teatree oil, which is known for its anti-pimple and antibacterial properties. Because of my sleep routine lately, I have been suffering from breakouts around my chin area and as of this writing, this primer seem to be in harmony with my skin. I'll write a full review of this product soon, after a few more weeks of testing. So far, I love it.
Physiogel Intensive Cream
A hypoallergenic, intensive moisturizing cream that provides a high level of natural lipids for long lasting hydration of extremely dry, irritated and sensitive skin. Full size: 50ml, Php 574.50
Everyone's going gaga over this product, so I was glad to see it inside my June Glamourbox. I have really dry skin on my palms – probably the only parts of my body that are dry – so I am looking forward to finding out how this Physiogel Intensive Cream will help me. I'll stop using my lotions for now, and stick with this for a bit and I'll write a review (probably) soon.
Barenaturals Lip Stix in Butterfly Kisses or I Love You this Smooch
Feed your lips with this highly nourishing, color-imparting lip butter! Its yummy peppermint and vanilla scent smells so good, and is safe for use even by kids as it's made with all-natural food-grade ingredients. Full size: 4g, Php 148
I've used this for about a week now, and I like it, though I still love the Pixi Magic Tint that I got from the Green Beauty Glamourbox a couple of months ago (I'll include this in my beauty box haul post) because the color isn't as pink as this Barenaturals lip stix. I'm not into pink lippies, sorry. I do love the yummy smell, and would still use this… when I find an occasion for it.
Here are the rest of the contents of the Bridal Bliss Box that I don't think I'll use:
Mustela Stelatopia Cleansing Cream – Full size: 200ml, Php 950
I don't think I'll be using this since I already have too many products and things going on before, during and after I take a bath. 😀
Isis Pharma Dermatologie Teen Derm Gel – Full size: 40ml, Php 450
I currently have a skincare routine that works for me, so I'll skip this one. Maybe I'll try it in the future.
Nippon Esthetic Solutions Facial Cleansing Sponge – Full size: 10 pcs, Php 325
When I got to them and saw that they're FACIAL cleansing sponges, I was like, "Whut?!?". 😀 They were hard and I initially thought, "No way I'm going to use this on my face!!". Hahaha. It turns out, when they're wet, they turn soft enough to make you feel okay with scrubbing your face with it. I might use this to remove thick makeup, but I don't wear anything but BB cream and powder these days so I might not use them at all. We'll see.
Extras: Posh Nails and Plana Forma Free Class Vouchers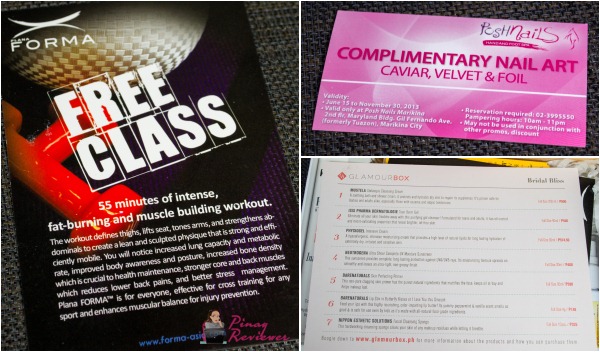 First off, the Posh Nails voucher is useless for me since I live hours away from Marikina. Second, I don't know anyone close enough to give this to. Next, the Plana Forma voucher for a free 55-minute class is something I would've used, only I don't like commuting hours for an hour workout session. So, I'm not sure what I'll do with it.
Total Value of Glamourbox June 2013 Box
I didn't include the Mustela cleansing cream and Isis teen derm gel below since I'm not going to use them. I'm calculating the value of this box for me.
Physiogel Intensive Cream – Php 574.50
Barenaturals Skin Perfecting Primer – Php 398
Neutrogena Ultra Sheer Complete UV Moisture Sunscreen – Php 460
Barenaturals Lip Stix in Butterfly Kisses – Php 148
Nippon Esthetic Solutions Facial Cleansing Sponge (2 pcs) – Php 65
Total Value: Php 1,645.50
Checking other unboxing posts, I wish I also received the Ofra eyeshadow. But, as I said earlier, I wasn't really expecting any makeup products last June. I just wish these boxes come earlier, like before – around the 18th of each month. I received mine late June, which really defeats the purpose of the "Bridal Bliss" theme. Just nit-picking. 😀
I think I got more than my money's worth for this box, so I'm quite happy with it. I can't wait for their July box, a special edition Glamourbox featuring Avon cosmetics. I'm not really a fan of Avon products, but let's see. I can always give them to my mom anyway. 😉
What did you love about Glamourbox June Bridal Bliss box? Let me know at the comments section! 🙂
Glamourbox

Subscribe or shop here: http://www.glamourbox.ph/
Facebook: http://www.facebook.com/GlamourboxPH
Twitter: @GlamourboxPH