Ever since I saw Ipsy's  beauty subscription box (by Michelle Phan), I wished we had something like it here – a way for ladies to sample various beauty products, including the ones we won't usually be interested in trying, in a sort of inexpensive way. When beauty curation boxes started launching here, I was ecstatic! However, only one extremely piqued my interest – Glamourbox.
I was tempted to try out the other subscription boxes – SaladBox and BDJ Box – but I decided to hold off on spending my money on them 'cause I wanted a few months to pass by to see the kinds of products they'll include in their boxes. None of them excited me as much as Glamourbox did, so last December, after trying for a month to subscribe and religiously checking their Facebook page, Twitter and website, I finally got to subscribe.
Glamourbox is a beauty venture by Binibining Pilipinas Universe 2006 winner and international model Lia Andrea Ramos and her founding team. So far, they've impressed me with what they have offered to their subscribers the past months and upon careful consideration, I believe that they're the only beauty box that can keep up with the hype and actually deliver. 🙂
Though Glamourbox is the most expensive beauty subscription box at Php 595 per month, from all the reviews I've seen, they give out unique and even full size items that are worth more than what you paid for. This is why I don't see myself subscribing to the other boxes unless they start including products that are not easily purchased at the grocery store or health and beauty section of supermarkets. We'll see if I'll change my mind in the coming months though. 😉
Now, on to what's inside for the first month of 2013!!
Glamourbox January 2013 Box
Since this is my first box from them, let me share with you what I think of the total package. I'm glad they're using very sturdy boxes. I'm a sucker for recyclable boxes (my bro calls it my hoarder side), so I'm giving Glamourbox props for this. They sent my box through Xend Express and I don't see any problems with the products I received.
The box itself was enclosed in another box, then wrapped in plastic too. Every month, they have a theme. And for January 2013, as expected, it's "Beauty Resolutions"
It's the start of a new year and we are excited with what's in store for Glamourbox this 2013! For January, we have put together interesting and unique products from premium and niche brands that are worth trying! Out with the old, in with the new!

Wishing you a new year filled with beauty discoveries!

xoxo,
Glamourbox team
At the back of the card, you'll find information on the products included in the box, with pricing information on each of them.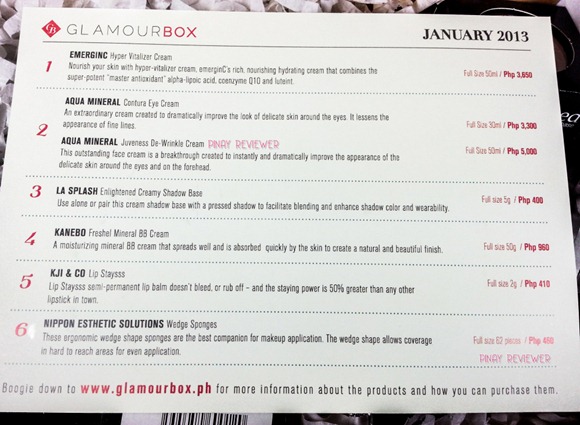 You'll also find out if there are full-sized products included. We got, not just one, but two (2) full-sized items for January! 🙂
Contents of Glamourbox January 2013 Box
Alright, I know you came here just to find out what's inside. I will be posting my reviews of the full-sized items in this Glamourbox January 2013 box, so stay tuned. I'm giving you a quick review below. In the order of least to my most loved products, here yah go!
Aqua Mineral Contura Eye Cream and Juveness De-Wrinkle Cream
They claim the eye cream can "dramatically improve the look of delicate skin around the eyes". The De-wrinkle cream can be used on the forehead. I do have a few lines under my eyes due to insomnia and stress from work. I doubt the samples will give me results and I've only used the eye cream, so I'll check out the reviews from other blogs to see how effective this is.
Emerging Hyper Vitalizer Cream
I'm currently looking for a new moisturizer or facial cream that won't break me out. Been using this for 2 days now, so we'll see if it'll cause any problems. I love how it feels on my skin though. I have combination skin, and my t-zone can be really oily with moisturizer on. This doesn't oil me up that much, so it's good for day use. It's a bit pricey for my taste (and budget) though at Php 3,650 for 50ml.
Nippon Esthetic Solutions Wedge Sponges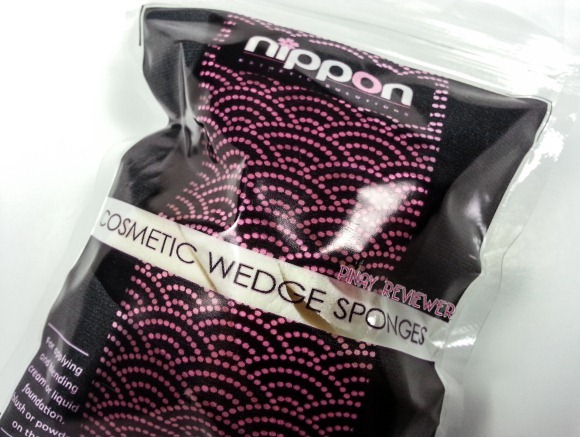 I actually have a couple of wedge sponges already, so I'm happy I won't need to buy a new set anytime soon. I LOVE sponges for applying cream foundation, which is my most used makeup product now (let me just say this – Sleek Crème to Powder Foundation works great for my combination / oily skin!). These wedge sponges can help you apply makeup on those hard-to-reach areas of your face. I'm a bit OC when it comes to using sponges and puffs, so I think I use them up like crazy. 😀
We got a pack of six (6) sponges, so based on the full size info, this is priced at Php 44.50.
KJI & CO Lip Staysss
They described this as a "semi-permanent lip balm that doesn't bleed or rub off".  They weren't kidding. 😀 I used it while working (at home though) and even after drinking water and tea, it was still there on my lips. I'll be using this on top of my lipstick when I go out. 🙂
We got this in full size (2g) so it's priced at Php 410. Will write a full review as soon as I see how effective its staying power is on me who don't usually pay attention to my lips when I go out. 😀
Kanebo Freshel Mineral BB Cream
I stopped using BB creams last year because they don't suit my oily skin and the weather here. But, I'll try this one out to see if it'll work better for me.
Full size (50g) is at Php 960, so this 5g sampler is priced at Php 96.
LA Splash Enlightened Creamy Shadow Base
THIS is my favorite item in Glamourbox January 2013 box! I am a fan of cream foundations, shadow base and eyeshadows, so this is just perfect!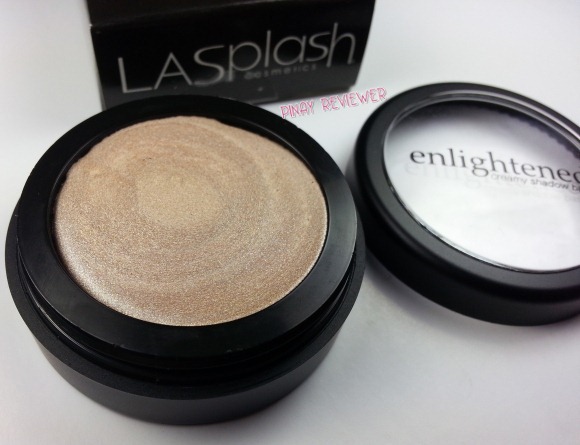 It glides on smoothly, and I love the nice shimmer too. Really pretty. I've been using cream shadow base for my makeup to last longer, which is why I'm glad I get to try a new brand.
We got the full size (5g), priced Php 400.
Total Value of Products in January 2013 box:
Php 950.50 – not counting the facial and eye creams. Not bad, but if you compare this with their other boxes, you might be disappointed. However, I'm still happy with what I got. I hope their next boxes will feature more products that I would actually go out and buy a full-sized bottle/tube/pack of. Nonetheless, I'm happy with the shadow base and lip balm.
That's it! I now can officially recommend Glamourbox! If you're not subscribed yet, stay glued to their social media channels (linked below) and check their website often (if you can).
TIP: I say go for the MONTHLY recurring charges so you won't have to worry about re-subscribing every quarter. All you have to do is sit back, relax and wait for what Glamourbox has in store for you every month. 🙂
Which product in the Glamourbox January box do you like best?
Comment down below!
Follow Glamourbox on Facebook and Twitter.