From all the reviews and posts I've read, I know for a fact that many subscribers of beauty boxes like Glamourbox have always looked forward to makeup products included in the monthly boxes. Though many of the items that I got that I absolutely loved weren't makeup items, I always anticipated seeing at least one makeup product in the boxes I get. So when they announced about the Glamourbox Special Edition Avon box containing Php 2,000+ worth of products, I was one of the many ecstatic ladies who opted in to receive it last month, July.
To be honest, I wasn't a fan of Avon. I know the brand very well since my mom is an avid consumer of their products since time immemorial. I'm aware of how much they've helped many Filipina women to earn a living and be beautiful, but I guess I haven't found any Avon product that really gave me the result I wanted.
Well, that's until I received this Glamourbox Special Edition Avon Box. I got so excited to receive the box that I jumped off my bed when my shop assistant told me I have a package waiting, and I ran off to get it from him. I recorded the Instagram video below and I completely forgot my music was blasting like crazy in the background. Good thing it was one of my favorite songs and a popular, cool Robyn hit at that. Otherwise, I'd be utterly humiliated (oh, you should see my playlist 😀 ).
Anyway, where were we? Oh, yeah, the Glamourbox Avon Box. 😀 So, the box is specially marked, proudly advertising Avon as THE company for women.
"May the vibrant hues and playful shades of Avon's latest makeup collection inspire you to reveal what you truly are, a fabulous woman!
Make it beautiful, Glambabes!"
When I opened the box and checked what's inside, I couldn't help but to try them all… immediately!! 😀 I was quite happy that almost everything we got were full-sized products. When I posted the Instagram video, I haven't tried the products yet. After over a week of testing, I am finally giving you my verdict on the items here. Like always, let's start with the ones I liked.
Avon True Color Eye Shadow Quad in Purple Pop
Full size: 5.6g, Php 449
The only colors I often use for my makeup looks are black, grays, browns and purple. Needless to say, this eye shadow quad from Avon was my favorite. It's not as pigmented as I would like, but I like the colors.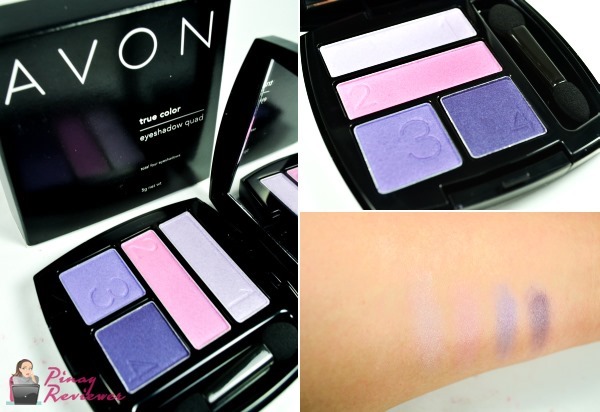 I tried using this without any eye primer, and I came home with a li'l color left on my eyes (see makeup look photos below this post). I would've loved to keep this, but my mom, who's addicted to the color purple, wanted it. In short, I had no choice but to give it to her. 😀
Avon Ideal Luminous Blush in Peach
Full size: 6.23g, Php 370
I love the color on this blush! Warm, and it suited my complexion well. I don't like pink blushes and I prefer earthy colors like peach and the one I'm currently using (amethyst). So this one was just perfect for me. 🙂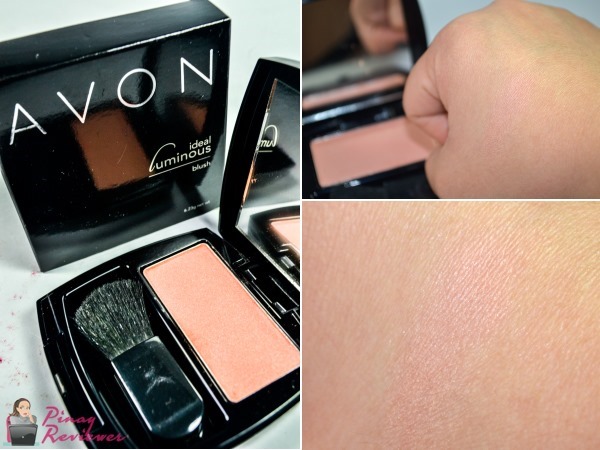 Avon Supershock Max Waterproof Mascara
Full size: 10g, Php 420
I'm not a fan of putting on mascara. I prefer to just line my eyes to make my eyes pop, but this one was one of the products in this box that I can't wait to test in terms of staying power. I tend to oil up everywhere on my face, so I want to see how this will hold up. I've only tried it for a few hours and it did smudge a little. Or maybe I'm just used to not wearing mascara that I forgot I was wearing this. 😀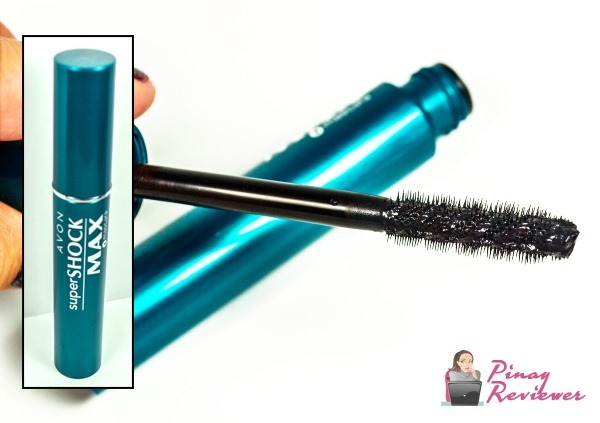 Avon Ultra Color Lipstick with SPF15 in Hibiscus
Full size: 3.5g, Php 379
There were 4 lip products included in this July box, but this was the only one that I decided to keep. I believe that every woman should have at least one pink lipstick in her possession, so I think this will be it. I'm not fond of pink lippies since they don't really suit my complexion, but this one was okay. I'll continue using it and see if it'll change my mind about pink lipsticks. 🙂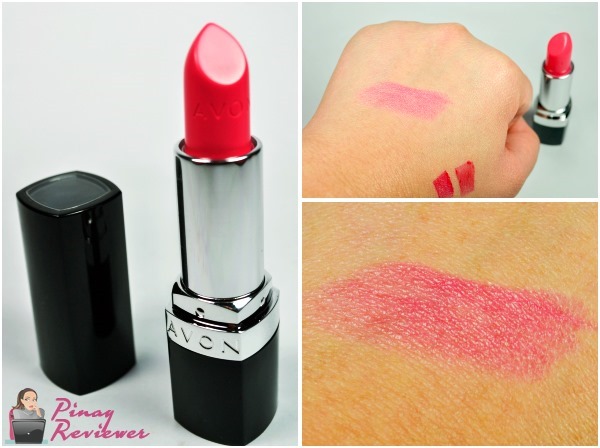 Avon Lipstick in Charged Cherry and Red Kiss
Are these mini lipstick samples cute or what?! I hope we'll have more samples like these readily available for us to test out various shades. Less wastage, more savings. 🙂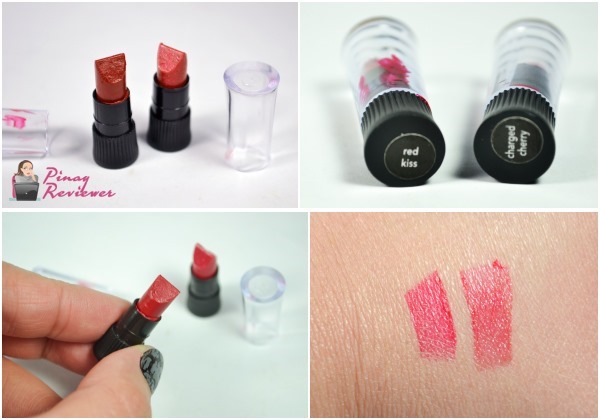 Though I didn't like the colors of the Avon Ultra Color Rich Mega Impact Lipstick SPF15 in Charged Cherry and Avon Ultra Moisture Rich Moisture Seduction Lipstick in Red Kiss 'cause they're too bright red for my taste, I love the shimmer they both render on my lips. My mom absolutely loved both colors, so, of course, they're with her now. 😀
Avon Ultra Glazewear Lip Gloss in Fiery Red
Full size: 6.5ml, Php 299
Not to be too repetitive, but I didn't like how bright red this was. I think you have to be really fair for this color to suit you. My nanay owns this now. 😉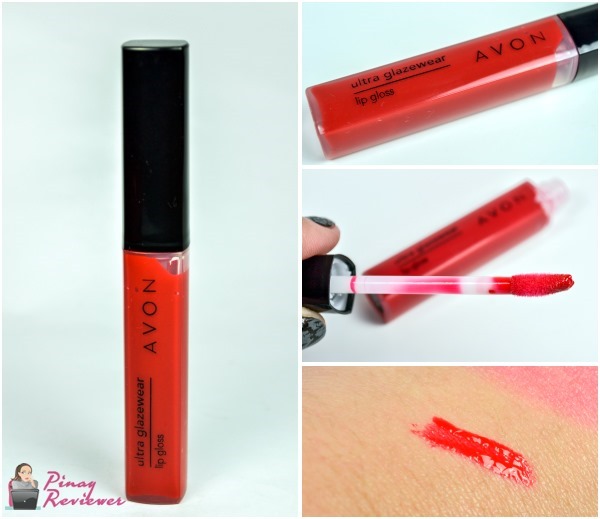 Avon Skin Goodness Moisturizing BB Cream with SPF20
Full size: 18g, Php 399
I was excited to see this in the box. I love BB creams, so I was looking forward to adding this to my collection. I used this for 3 straight days – twice when I went out with my bro and next with my mom. Then the third time, I stayed at home. That's how excited I was to see how this will keep up with my oiliness. 😀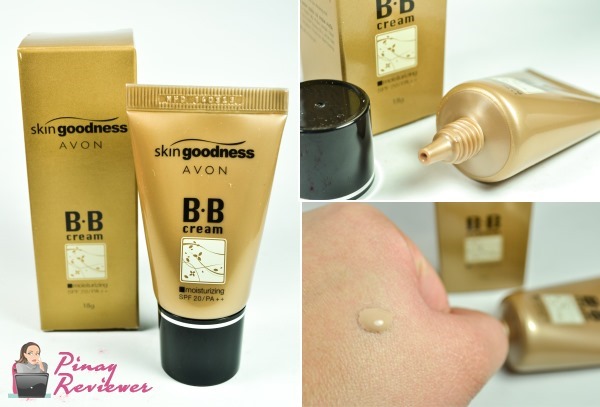 I like the matte finish. The color doesn't suit me though. It gave me this pink tone that will never work for me. I have yellowish skintone, so when I used this, it left this white cast that I was uncomfortable with. Not their fault though. I know, looking at the photo below, you would wonder how it ended up pinkish on my skin, but it did. I was saddened, though I still continued to use it for 2 more days.
My major concern about this was after 3 days of using it, I got nasty breakouts on the lower part of my face – my chin area, above my lips, on my cheek and near the corner of my nose. 🙁 I haven't had any pimples anywhere other than my chin area for years, so I know it was a reaction to this BB cream. I had to stop using it and gave it to my mom. Now, my skin is starting to clear up again, thank goodness. The BB cream, according to the info card we received, is suitable for sensitive skin. Sadly, it didn't work for me, which is really too bad because the BB cream actually stayed on for hours. *sigh* Oh well, back to my F&S BB cream.
In the photos below, I was wearing the BB cream (I finished it with my Ben Nye Banana Powder to get rid of the pinkish tone), eye shadow quad, the blush, and the Avon Ultra Color Lipstick in Hibiscus. I forgot to take a photo on the first day I used it, but managed to take a selfie on the second day after around 8 hours of being out and about. I didn't reapply anything, not even the lipstick. The BB cream barely lasted, but I was wiping my face that day because I was sick, which explains that.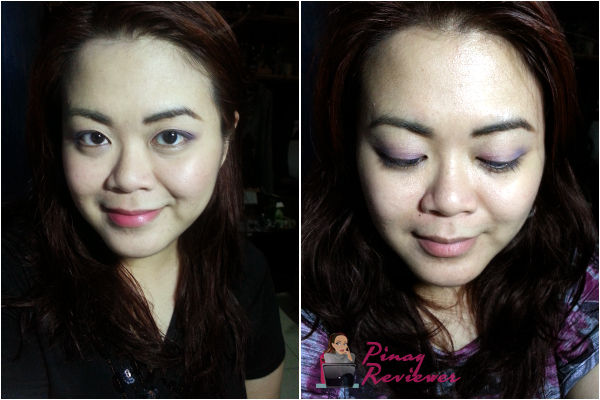 Total Value of Glamourbox Special Edition Avon Box
Again, the computation below is based on the items that are useful to me.
Eye shadow quad – full size – Php 449
Blush – full size – Php 370
Lipstick in Hibiscus – full size – Php 379
BB Cream (ignoring the problem I had with it) – full size – Php 399
Mascara – full size – Php 420
Total Value: Php 2,017
WHOA! Even if you take out the BB cream and mascara, I got more than my money's worth! Love it! 🙂
Other Avon products included in the Glamourbox Special Edition Avon box are the following. I haven't tried them, and after my skin's reaction to the BB cream, I might give them away too.
Avon Anew Vitale Day Cream with SPF25
Anew Genics Treatment Concentrate
Anew Genics Eye Cream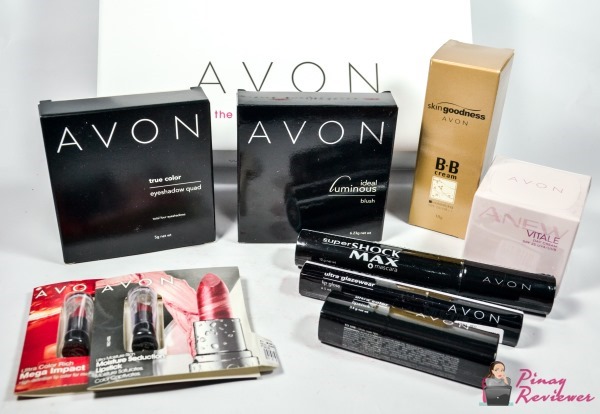 Despite that issue with the BB cream, I enjoyed this Avon Glamourbox. And I'm sure my mom's glad she got all those goodies. 😀 I wish Glamourbox will have more special edition boxes like this one in the near future. From all the teasers I've seen on their Facebook page, it looks like we'll be seeing more of these partnerships soon. Exciting!
I wish TonyMoly, Maybelline, Etude House and more beauty brands will partner with them soon. What brands are you hoping will partner with Glamourbox in the future?
GLAMOURBOX

Subscribe or shop here: http://www.glamourbox.ph/
Facebook: http://www.facebook.com/GlamourboxPH
Twitter: @GlamourboxPH