In a few weeks, it's officially summer. I know a lot of you have already planned your summer getaways (I haven't… waah 😐 ) and part of it is shopping for new outfit suitable and comfortable enough for your vacation under the heat of the sun. So, I thought you might be interested in this promo from Regatta – get a FREE Regatta summer tote for your purchase of any regular-priced jeans or chinos, and boat shoes for Php 2,495.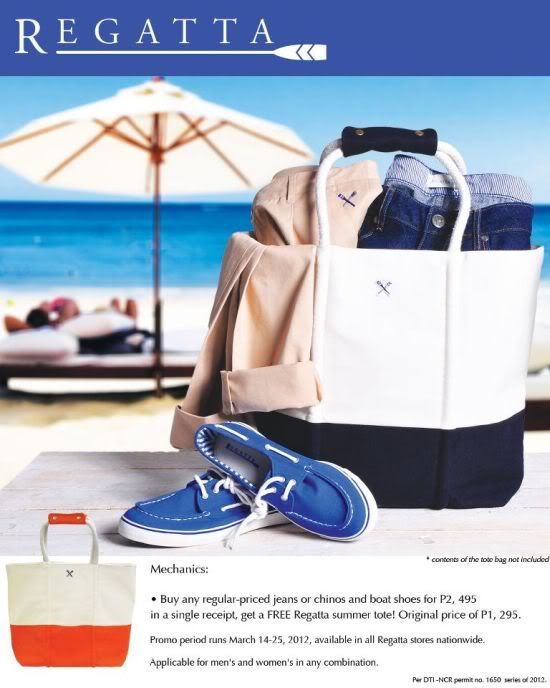 The Regatta summer tote itself is originally priced at Php 1,295 so it's a bargain! And, hurry! This promo is available only until the March 25th! You can avail of this promo from all Regatta stores nationwide. To find out which branch is closest to you, check their site: http://www.regatta.com.ph/stores/
For more information, you can follow Regatta through the following links:
Have a fun summer, everyone! 🙂
This reminds me, I need to start planning for our summer vacation! We just came back from Baguio, and I miss the cold breeze there. Maybe Tagaytay? 😀 Everyone's heading to the beach, and I'm planning on staying as far away from the heat as possible. 😀 But, I want to go back to Pagudpud desperately! Now, all I've got on my shopping list are things we'd need for my bro's business like a new oven, analytical balances, a more reliable mixer, etc.