If you check the sidebar of this blog, you'll find various group-buying sites that I'm a member of. I'm actually gathering all the links and I'll be putting them up on a separate page along with my own reviews of each site. For now, let me tell you about eBay Philippines Kuponan,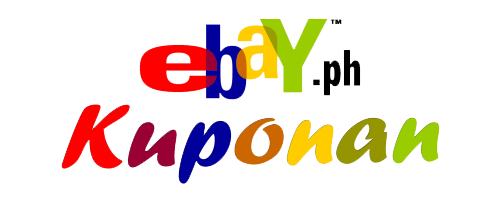 Just like other group deals sites, eBay Philippines Kuponan offers great discounts from different businesses and merchants who provide products and services such as massage, package deals for out-of-town trips, hotel accommodations, buffets, etc. What's great about Kuponan is it's part of eBay Philippines, meaning it's backed up by the reliability and security of the payment / e-commerce system that eBay has been known for. You'd feel safer knowing you're transacting with them. 🙂
The major difference between eBay Philippines Kuponan is that you don't pay the full amount with them. There are deals that you have to pay only a certain amount with eBay and then the rest will be paid to the merchant for you to claim your voucher or avail of the discount / deal. This may be good for those who don't like spending too much money online and prefer to transact offline.
To further clarify this, for instance, here's a currently live deal from Kuponan's site: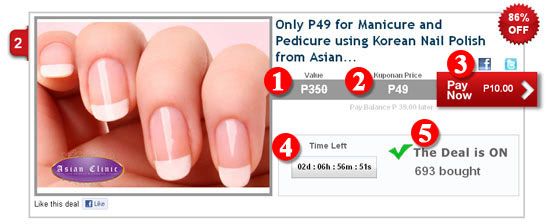 This is the original price of the service or product.
This is the discounted price. For this sample deal, you're getting a whopping 86% off! 🙂
This means you only have to pay Php 10.00 NOW for you to reserve a voucher or coupon. The rest of the discounted amount will be paid to the merchant directly.
This is the time left before the deal expires or ends.
This will show if the deal is already on and how many vouchers / coupons were sold.
If you're new to group buying, then, let me know if you have questions. I do hope I made it a little bit clear how Kuponan works.
Another feature that I didn't find on any other group deals sites is the ability to contact the seller right off the deal's page.
It'll first give you a series of possible topics or questions you might have to make sure that you didn't miss the information on the deal's page. Yes, some people still ask questions even when all the necessary or important info have been laid out for them already. 😀
Check out eBay Philippines Kuponan and browse through their current deals. There might be something that you'll need or you're looking for. These vouchers can serve as Christmas gifts. How convenient, eh? 🙂