As soon as I got hold of my Samsung Galaxy S3 phone last year, I immediately bought a casing and screen protector for it. I'm a bit paranoid when it comes to protecting the touchscreen and I don't trust myself. 😀 That casing though didn't protect my phone from damage so I've been on a lookout for a new one. I purchased a new screen protector and my bro gave me a new case, but they weren't enough for me. Thankfully, I found out about Case-Mate Tough Case for Samsung Galaxy S3. My search is finally over. 🙂 I really mean it.
I've heard about Case-Mate even before I wrote about them opening a store here in the Philippines. I was searching for a durable casing for my phone and I don't mind paying a premium for it (I paid Php 1,500 for my screen protector and I can no longer count how many times it saved my phone). I heard rave reviews about this one, so when I was given a chance to review this, I grabbed it. When I finally got my Case-Mate Tough Case, I was excited to see how it'll suit my needs.
As soon as I took it out the packaging, I knew I've found the one. 😉 It's a 2-piece case – one is made of silicone and the other one is a polycarbonate hard shell.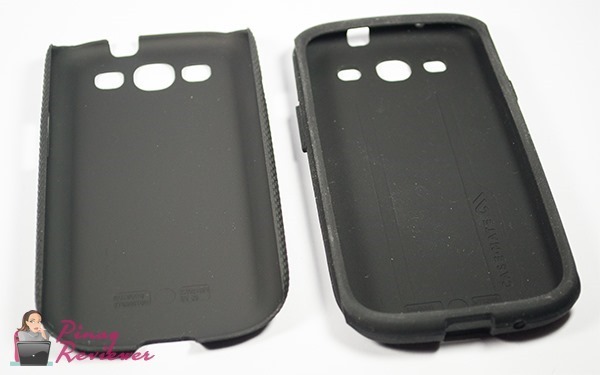 I immediately removed my old casing and started fitting this Case-Mate Tough Case to my phone as soon as I was done cleaning it. The silicone casing is flexible so it's easy to put on and my phone fits snugly in it. There are volume and power buttons integrated into the casing, and I tried pressing using the buttons on my phone with the silicone casing on and I had no issues with it.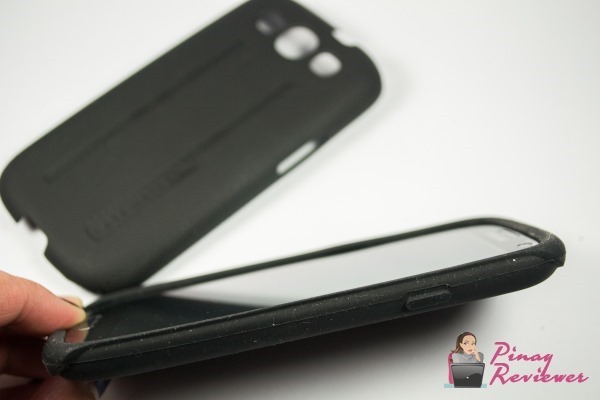 Fitting the hard shell casing was tricky. I had some difficulty popping the volume and power buttons into the holes meant for them. I guess I was just being too careful, but the casing can definitely take all the pressure I was applying onto it just so I can fit the buttons onto their designated holes on the hard shell.
I LOVE how secure my phone looks in this casing. The silicone case serves as a bumper, like a cushion that absorbs the impact when you drop your phone or it hits something hard. The phone is protected on all sides and corners.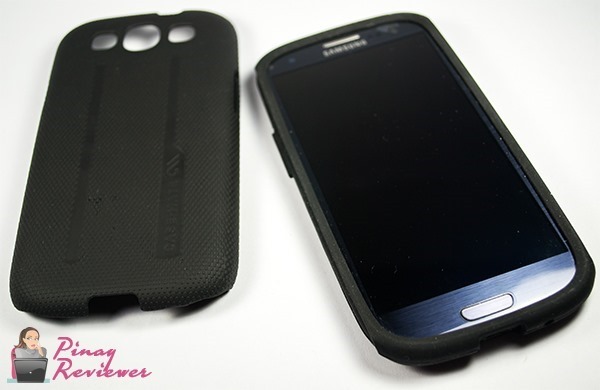 But what I particularly like about this is how the front bumper is protecting my screen from impact of face-down / forward drops, which has happened to me many times (I'm too clumsy). 😀
The hard case also has this texture that makes it easier to grip. This is the next best feature of this casing because you're less likely to drop your phone. 😉
Together, the hard shell and the silicone case give my phone a much-needed dual protection, and even protects the camera at the back and the flash / light too. As you can see below, after using this for about 2 weeks now, there are small dents on the back of the case – proof that this has saved my phone from a recent drop. 😀 Though I'm using an invisible shield, I can only imagine what could've happened to my phone if I didn't have this case. 🙁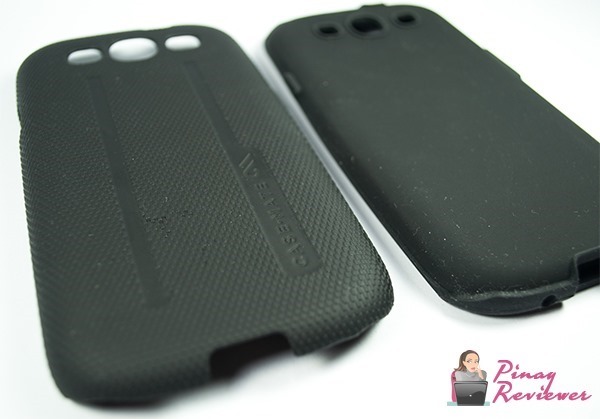 Sure, this case looks a little bulky, but it's lightweight and actually pretty slim compared to the old metallic casing I was using. Plus, it doesn't damage my phone's surface and the screen because of the soft and flexible silicon case.
Case-Mate Tough Case comes in 3 colors – all black, all white and a pink-black case. Of course, I went for the all black one. 😉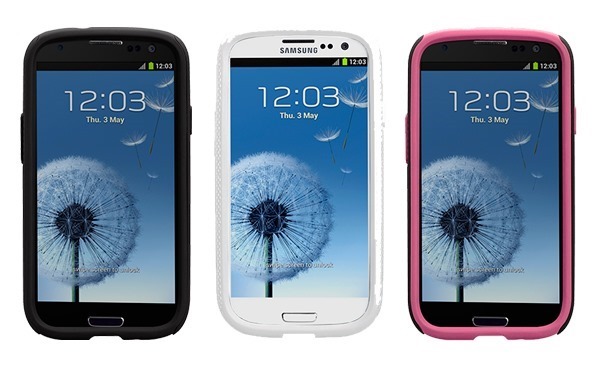 I wish I had this Case-Mate Tough Case for Samsung Galaxy S3 last year. This could've prevented that small, irritating damage on the front of my phone's screen (top right, see photos above). But, I'm glad I finally found the casing my phone deserves. I feel more secure using, holding and carrying it around, even loosely in my bag, because I know this Tough Case will protect it all the way. 🙂 I don't think I can recommend this enough.
Case-Mate Philippines

Twitter: @CaseMatePhils
Store: Case-Mate kiosk at SM Cyberzone at SM Annex building