I've mentioned this here before and on my personal blog, but it's only this year that I really started to learn how to put on makeup properly. I'm pretty happy with some of the looks that I get to try on myself now that I'm feeling more confident with my makeup application. However, I still have a lot of things to work on, especially with my eyebrows, and more colors to play with so I'm just excited to get my hands on more makeup goodies. That's why you'd see that most of the giveaways I'm featuring lately are under the beauty niche.
And, for all you kikays out there, here's another giveaway you shouldn't miss. It's Bing's Awesome Birthday Giveaway! Here's a photo of the prizes: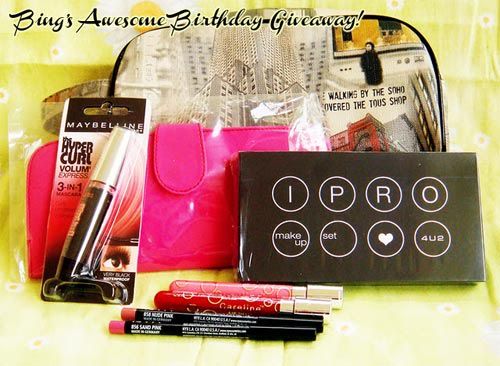 The mechanics are pretty easy to follow. One of them is choosing a favorite among the ones she's already done on her blog – a very easy feat, if you ask me, since she's done some pretty cool and sexy looks I know most women out there would love to try on themselves. 🙂
The prize includes the following:
Pink Candy wallet
Newspaper Print pouch – I love this! I'm getting addicted to pouches, seriously.
4U2 Professional Makeup Palette
Maybelline The HyperCurl Volum' Express 3-in-1 Mascara in Very Black – I've only used colorless mascara, but I'd love to try this one 'cause of what they say it can do to my eyes. 🙂
Careline Lip Glosses
NYX Slim Lip Pencils (Nude Pink and Sand Pink) – Perfect 'cause most of my friends say I need to put on more color on my lips. 😀
If you're not a kikay or if you're a guy, you can still actually join the giveaway. Just say you're hoping to give the prize as a gift to your mother, sister, friend or special someone. 😉 This can be a perfect graduation gift or something to celebrate a birthday or anniversary with your kikay loved one. 🙂
To join, click here for the complete mechanics or click on the photo above. Good luck!