Though I've been wearing makeup since I was in college (and, boy, that was almost 2 decades ago), it was only in the past 5 years that I learned how to properly put on makeup. It was also just recently when I began to try out different cosmetic brands – from affordable to more expensive products – and experiment on which ones would work best on my combination skin. Online shopping has made this easier for me, and now, I'm sharing with you my new #1 beauty online shop – BeautyMNL.
BeautyMNL is the beauty portal of my favorite deals site, Deal Grocer, so I know for sure they only sell genuine, legit products in their online store. I've heard horror stories from friends about fake makeup products that they got online, so it's important for me to only shop from websites or companies I trust, like BeautyMNL. Here are my reasons why I love BeautyMNL.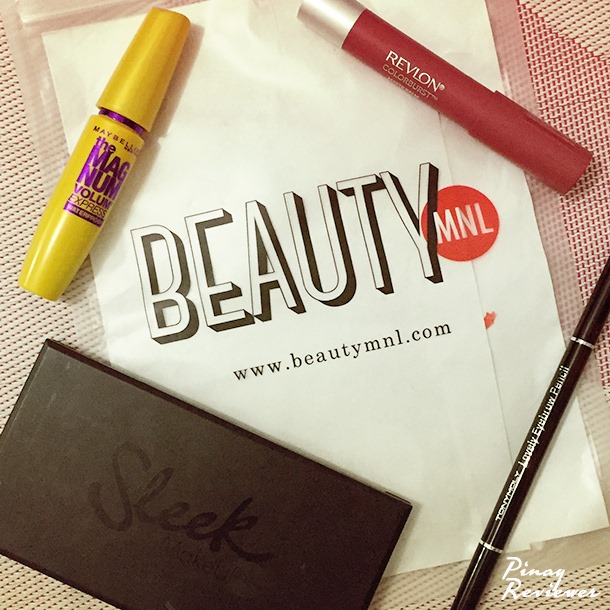 BeautyMNL carries over 300+ brands, both high-end and affordable.
I was one of the few to be invited to try their online shop, but I've actually discovered their store before when I was looking for an online shop that sells legit Tony Moly products. The first time I was on their website, I spent over an hour browsing for products I want to try. There's so much to see!! 😀 They carry over 300 brands, and you can conveniently browse through them via the brands directory page.
BeautyMNL has something for you no matter how big or small your budget is. They have high-end brands like Chanel, Shiseido, Laura Mercier, Urban Decay and NARS. If you're looking for affordable brands, they've got them too such as Maybelline, Revlon, Pixi by Petra, Tony Moly and Sleek.
You may also browse by categories such as skin care, makeup, hair care, organic products, nails and scenes, accessories and essentials. You can find makeup tools and brushes on their website too.
If you're on a tighter budget, you can check out their sale offerings. During my first BeautyMNL shopping, they had a sale where you can get products at 65% off.
My usual habit when I shop is I browse on my mobile phone and add stuff to my cart or wishlist, then I finish my shopping on my laptop. Good thing BeautyMNL's online store is optimized for mobile so you can smoothly browse and shop on your mobile device too. 🙂
Their Review System
Whenever I buy something, especially when it's a makeup product or gadget, I always check online for reviews from people who have already bought and tried said items. BeautyMNL has their own review system where shoppers can leave comments on products to help you decide whether it's worth the buy or you should find an alternative.
When you register, you're asked to indicate your skin tone, skin type and other features (morena or mestiza). When you go through the reviews, you'll easily see which reviewers have the same skin tone and type as you, which was quite helpful when I was checking out the products I wanted to buy.

They also have this reward system for shoppers where you get Php 500 worth of credits for every 35 reviews you completed. This encourages people to take the time to leave their comments on the products they bought from the site. I'm usually too lazy to leave reviews when I buy stuff online, but they made me want to write reviews to get the incentive (Don't worry, they moderate the reviews as a way to ensure you only comment on products you actually bought).
Secure Paypal Checkout and Free Shipping
They use Paypal so you'll feel secure when you check out and pay for your items. They also offer free shipping if your order went above Php 2,000, but this Christmas season, they'll ship your products to you for free even when it's less than Php 500 (I know, 'cause I just bought a new mascara from them). Oh, and they deliver nationwide! 🙂
Beautiful Messaging
In my line of work (online marketing), I find it impressive that BeautyMNL's messaging is consistent all throughout the shopping journey, from the moment you shop on their website, till you get their email confirmation, up to the time you receive your package.
"Beautiful things are worth the wait", it says on the email I received updating me on the status of my order.
Then, the packaging. My bro can't understand why I can't just throw it away. 😀
BeautyMNL's Bloom, the Magazine
BeautyMNL is more than just an online shop. They also have a lifestyle section where you can read articles, reviews and tips from makeup and beauty enthusiasts and experts, most of them you might already be familiar with like Liz Lanuzo, Laureen Uy, Rosanna Aranaz, and Patty Laurel-Filart.
Finally, My First BeautyMNL Makeup Haul
Okay, it's not really a 'haul' since I only purchased 3 products from them the first time, but my BeautyMNL shopping experience was a breeze that they're now my go-to online store. In fact, I needed a new mascara this week and I just bought one from them while I was finishing this review. 😀
Going back to my first BeautyMNL makeup 'haul', it was hard to control and limit myself 'cause there's just so many products I wanted to try. First up is Tony Moly's Lovely Eyebrow Pencil in Latte Brown. I've been a fan of this brand, especially because of their gel eyeliner that works like a miracle on me. So, I wasn't surprised when I got a hold of this eyebrow pencil.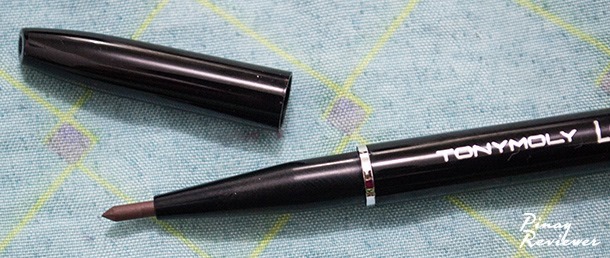 I am IN LOVE with this product! I'm always in a hurry in the morning when I put on makeup, and this just made it easier for me to achieve a more natural-looking pair of eyebrows. I love them thick and dark, and I get exactly the eyebrow look I want every time. It glides on smoothly but I still maintain control over how sharp I want the edges of my eyebrows to be, even when I'm only wearing BB cream and powder. For Php 178, it's definitely a steal! I just added myself to this eyebrow pencil's waitlist on BeautyMNL, and I think I'll get to buy it again by the time I finish off my current one (almost 2 months).
I have Sleek's cream-to-powder foundation, and I'm obsessed with it. I actually bought 2 of it in one go the last time I shopped, so I'm confident about the quality of their products. BeautyMNL carries some of their products too, and the first thing I wanted to try was Sleek's I-Divine Eyeshadow palette in Sunset.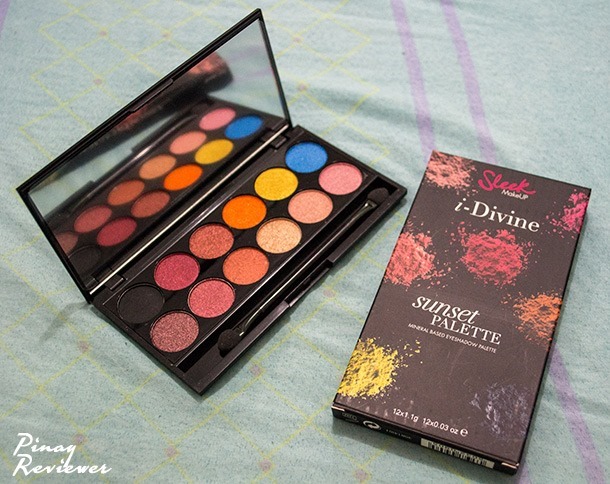 It only costs Php 745 on BeautyMNL, so I was pleasantly surprised by its color pay-off. I usually have to pat on 3-4 coats of eyeshadow to get the intensity I want, especially when I'm going for a more smoky look, but with this Sleek eyeshadow palette, I didn't have to. Though I think I'll end up finishing off its black eyeshadow and the shimmery purple one first because I'm liking the Annalise Keating look on me lately. 😀
Lastly, I was also curious to try Revlon's ColorBurst Matte Balm in Sultry. This is the only pinkish lippie I can handle (I prefer darker colors). My lips get a bit dry in the late afternoon, and though this product doesn't help me a lot with that, it gives me this minty feeling on my lips that I love. The color intensity is amazing and it also stays on longer than my other lippies.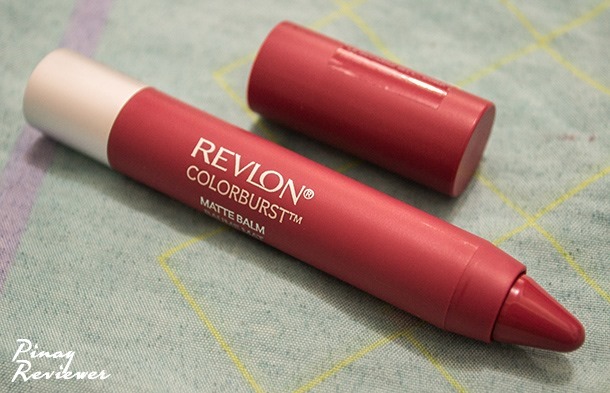 Here's a selfie of me wearing all 3 products. I was off to work, so I didn't go for a strong makeup look (I used the black and light purple colors on my eyes). When I finish my full review of the Sleek I-Divine palette, I'll show you what other looks you can wear with it. Oh, and excuse the eye bags. I badly need a concealer, I know. 😀

Overall, I'm pretty happy with my BeautyMNL shopping experience, especially because of the smooth transaction from start to finish, and the 'personal' touch they add to the whole experience. BeautyMNL is now definitely my go-to online destination for my beauty and makeup needs. 🙂