Whenever we buy new gadgets, one of the most important things we want to know is the coverage of the warranty. In fact, people are willing to spend more just to get enough warranty for their devices because of the possible costs of repair. I know for a fact that Apple product aficionados are more concerned about this because it's a big investment to purchase Apple gadgets like a Macbook Pro, iMac, etc. Well, thank goodness for Protect+ being offered by Digital Hub and Philfire, you can now extend your warranty for your Apple devices.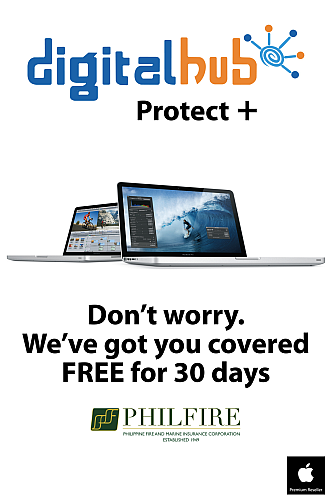 What is Protect+?
Protect+ is an extension of your AppleCare warranty that includes theft and accidental damages. This is offered specifically to those who have Apple Macbook, Macbook Pro, Macbook Air, iMac, iMac Mini, iPad and iPod devices. They even offer FREE 30-day trial within 7 days from the date you purchased your Apple device.
Based on my experience, Apple products are more prone to being stolen because of its high value in the market. This is why I recommend you get Protect+ to avoid unforeseen expenses. They even offer flexible terms for the duration of the coverage and payment of premiums – an option available to you within 14 days of purchase.
Benefits of Protect+
With Protect+, Philfire will provide Apple product owners security from future costs of repair or replacement of their gadget. Note that the replacement may be a refurbished unit with the same specifications and that Philfire Insurance will pay for a maximum of two (2) repairs during the period of insurance.
Coverage of Protect+
With this warranty, you get 12 months protection from accidental damage (covered with standard repairs and unit replacement) and 12 months protection from theft.
This warranty is available to all Apple products EXCEPT iPhone. Take note that Protect+ is an EXTENSION of your AppleCare warranty, not a replacement. It's just more affordable and with the flexible payment terms, more practical to get for your Apple device.
Protect+ Activation
How do you avail of the Protect+ warranty for your device? Follow these simple steps:
This warranty is available at your nearest DigitalHub store. Once you make a purchase of your favorite Apple device, ask for assistance from the sales representative to register for the 30-day free trial of the Protect Plus.
Visit the PhilFire website at http://www.philfire.com.ph and then click on Products and choose "Protect+"
Enter your personal information and details of your purchase to create your own account. Take note that your registration should be done within 7 days of purchase.
Your successful registration will be confirmed through email verification of your purchase details.
For 6 and 12 months coverage, your Protect+ insurance policies will be delivered to your preferred addresses. How convenient, right?
For more information and pricing inquiries, visit DigitalHub on Facebook and Beyond The Box' FB page.